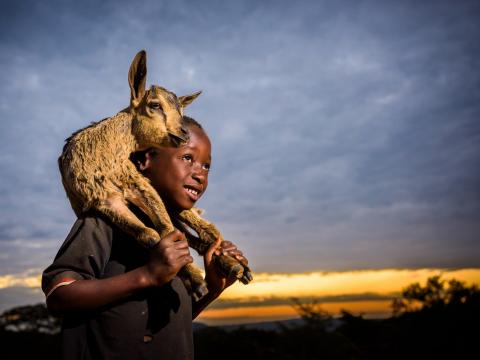 A Burden No Mother Should Bear
Wednesday, November 22, 2017
It shouldn't have happened that way—under the coffee tree.
"My neighbor told me to push," says Janet Namugga, a 33-year-old mother in Uganda.  "I kept pushing. God helped and the baby came out," she says.
The baby was still. 
"I touched the baby," remembers Janet, "but the baby didn't move. I put the baby to my breast but the baby didn't suck."
Janet's baby hadn't survived birth under the coffee tree.
Uganda's newborns are its voiceless victims, comprising 40 percent of all deaths among children. 
But through an innovative, effective, integrated health program, World Vision is determined to bring this number down.
In Uganda, World Vision works with village health team members. These community volunteers are on the front line of healthcare. They are trained to diagnose and treat the three killer diseases in Uganda—malaria, pneumonia, and diarrhea. They work with mothers before and after their pregnancies so their babies live and thrive.
Sara Nabukeera, 50, is the village health team member assigned to Janet's case. She's been meeting with Janet for months and will do so after she delivers her new baby—due soon. 
Sara uses timed and targeted counseling to walk Janet through the steps of pregnancy, giving practical advice, such as sleeping under a mosquito net and eating a diet rich in vegetables—even telling her how to cook them. 
"Boil the vegetables," she tells Janet. "Don't fry them. Don't overcook them. Half-cooked vegetables will increase the hemoglobin in your blood."
On this day, she is sitting with Janet near the coffee tree, preparing her for delivery. 
"Immediately after birth, put the baby on your breast," she instructs. "The baby will get colostrum. It will make the baby good and bright. If the doctor is not paying attention, tell him, 'Give me that baby!'" Janet laughs.
Sara's advice is excellent. She learns from a World Vision-produced radio program that teaches village health workers how to diagnose and treat the most common illnesses and how to care for mothers and children.
"Who taught you these things?" asks Janet.
"World Vision," says Sara. "I was chosen to be a village health team worker and World Vision trained me."
Janet is surprised. "But they don't pay you?"
"No," replies Sara. "They pay us in knowledge."
Janet sighs. "If I had known you, my first child wouldn't have died."
Janet may be right. More than 2,000 health workers have been trained by World Vision. Hospitals are and health centers are noting the difference. 
"Health centers that used to register 50 deliveries per month are now up to 130 per month," says James Muhumuza, who runs World Vision Uganda's programs that ensure healthcare access to mothers and children.
 "This lady has done a great work in my life," says Janet, nodding at Sara.
It's a lovely moment to witness in a place where Janet experienced a mother's greatest heartache—the death of a child.
Learn more about World Vision's health work throughout the world.
Written by Kari Costanza
Photography by Jon Warren