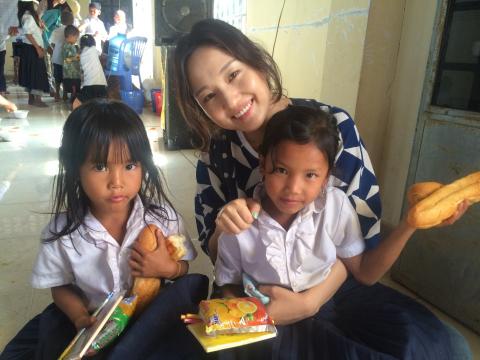 Changing my future by choosing education
Friday, April 7, 2017
By: Sunha Hwang, WVI Basic Education Atlas Corps Fellow
"I want to go to an academic high school, not a vocational school."
I still remember the moment that I spoke to my parents about my desire to pursue a secondary education.
When the International Monetary Fund (IMF) economic crisis occurred in 1997, the majority of people in South Korea were struggling with financial difficulties.
My family was not an exception. I had to decide on my high school choices during this time. My father wanted me to attend a vocational high school so that I could get a basic job and earn money within a few years. On the other hand, my parents asked my older brother, to go to university.
In my parent's generation, males should pursue their higher education because they need to have a good job and support the family.  Although it was 1997, there were still widespread social, and cultural norms that girls were the ones who should get married soon and have children, sacrificing their goals for their families. 
I was just an ordinary girl, who was not sure about her future, but was very curious about everything in the world. At least, I knew that my dream was not to become a factory worker or office secretary in a few years without any other choices. Although it was difficult, I knew that I needed to vocalise what I was longing for. 
My father eventually agreed when he realised that how much I wanted this other opportunity. Consequently, I was able to manage to pursue my education with a full support from my parents.
I eventually went on to study at university and obtained a master's degree. It was never easy to step forward in every stage, because I personally felt that if I were a boy, it would have been easier for me to pursue my education. Now, my father keeps telling me how proud he is of me serving at such a good humanitarian organisation like World Vision.  
In fact, World Vision has helped many other girls to pursue their educational dreams.
For example, there is a girl, whose name is Pan[1], from a deprived family in Myanmar.  Pan's father works as a farmer and her mother sells items like eggs and fish to local shops.
"When I was about to start Grade 6, my mom asked me to drop out from school to look after my younger brother [and stopped paying for] my school fees. So, I took my savings from my piggy bank and enrolled myself and paid for the school fees for the first month."
When Pan's parents learned about their daughter's determination, they no longer wanted her to quit school, and even tried their best to support her school fees of 30 baht per month (just under $1 USD). 
Eventually, World Vision heard about Pan's desire and was able to help support her and other children finish school. In fact, Pan passed high school in one year, whereas it is common for many students to take two or three years to pass. Pan's desire is to become a nurse.
There are multiple barriers preventing adolescent girls from studying in school caused by communities, schools, families, government, and students themselves. Female children are overloaded with household chores, relegated to child labour, or sometimes even forced into child marriage. School-related gender based violence and unsafe school environment are also huge obstacles.  
World Vision is has been developing "Girl Vision," which is a project model designed to address these barriers and help girls reach their educational and life goals.
I can definitely relate to their strong desires to become educated, and to escape from poverty and reach their goals. I am grateful that I can now be part of the solution to help them get there. 
 
Sunha Hwang is an Atlas Corps Fellow at World Vision International who has been working with the Education and Life Skills team since 2016. She has over seven years of experience in education including four years of experience in the field of international development.
[1] Pan's story was written by Phoebe Naw, Communications Manager, WV Myanmar