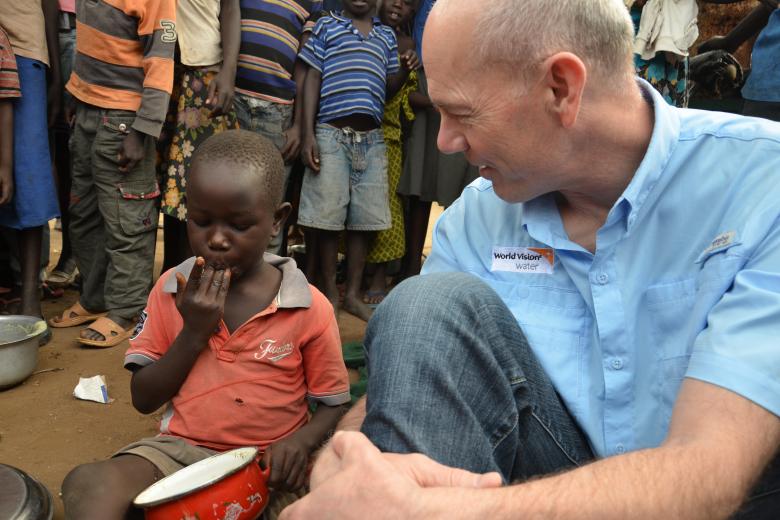 A children's refugee crisis offers a chance to do things differently
Thursday, June 22, 2017
By Kevin Jenkins, President and Chief Executive Officer, World Vision International
A children's crisis that almost no-one has heard of is unfolding in Uganda, which is now home to half a million boys and girls who have fled terror in South Sudan.
Every day, more than a thousand youngsters are among those crossing the border. About a hundred arrive alone and with tales of murdered parents, emptied villages and lost loved ones. These children reach Uganda terrified, traumatised and with no adult relative to turn to for help.  The Ugandan government, aid agencies and the local communities are doing their best to respond but this crisis is currently almost invisible and hugely underfunded.
Hopefully, that will change this week, with the arrival of UN Secretary General António Guterres, who, along with Uganda's President Yoweri Museveni, aims to lift the lid on this crisis by hosting a Solidarity Summit on Refugees on 22 and 23 June. The Summit will push for US$2 billion in crucial pledges.
One settlement, Bidibidi, is now home to 270,000 South Sudanese who have fled civil war in their homeland. Bidibidi has, in the space of a few short months, earned the dubious distinction of becoming the world's largest refugee settlement.
Although Uganda is itself a developing country, it turns no refugee away. It generously gives plots of land for homes and farming, and opens its education and health care systems to refugees. In the humanitarian world Uganda is seen as a model for how countries should respond to refugees, allowing them to move freely, work, build their own lives and stay for the long term. Talk of refugee camps – associated in most minds with tents and fences – is frowned on by the government, who prefer the refugees to think of themselves as guests in settlements.
But the country's kindness is being outpaced by the scale of need. The north is already comparatively under-served and schools and health services are over-stretched. Food rations, provided by the World Food Programme, have been severely cut. Host communities are struggling to survive, too.
Uganda is now home to more than 900,000 South Sudanese refugees, nearly 60% of them children. Many have walked for days, evaded armed groups and arrive exhausted, hungry and thirsty. 
Staff who work for World Vision register unaccompanied vulnerable children and find 'foster' families from among refugees who arrived earlier. This is a new opportunity in this crisis. Thousands of children have found supportive homes with caring adults. Children are also given places in "child friendly spaces" where they learn and play and where their emotional well-being can be monitored. So far, 52,000 children have places, but many more are needed.
When I visited the settlement a few weeks ago, I was shocked by the scale of need facing children. This is work that is heart-breaking for staff who patiently unpack the children's stories, but it is also profoundly important for those children's long-term health.
 John, aged 12, is one boy whose story could be repeated many times. He told staff he has no idea where his parents and three siblings are, losing them in the chaos to flee fighting that broke out in his village.  He witnessed other children being killed and brutalised and had to jump over the dead to escape. He still has nightmares.  And yet the dreams and aspirations of these children are no different from our children. Gloria, 18, told me she wants to be a nurse. Others want to be teachers and doctors. Every child I met wants to be in school ... and they all want an end to war.
In all conflicts, children pay the highest price. If we don't give particular attention to children's needs, their chance of an education will be lost and, with it, future job opportunities. Their mental and emotional health will surely be damaged. Many will suffer further violence, marry while still children or be forced into harsh labour to survive.
Long-term refugee movements are part of our complicated world's reality, so getting behind Uganda's progressive approach to refugee settlement is critical. Refugees should become economically self-reliant rather than dependent on aid. We must fund the immediate survival of new arrivals, especially children, but also deliver investment funding which provides work opportunities for refugees and bolsters education and child protection to enable boys and girls to grow into healthy and productive adults. The Counting Pennies report - released last month by a coalition including World Vision – found that only two cents in every dollar of humanitarian aid goes to programmes targeted at protecting children from violence.
 When governments refuse to marginalise refugees, and when humanitarian agencies, businesses and communities work together to respond, an amazing opportunity opens up for refugees to thrive – and to contribute.
Wealthy countries, grappling with anti-immigrant sentiment, are doing their best to slow refugee arrivals. They are also asking the countries nearest conflict hotspots to host all the refugees who arrive.  These demands smack of hypocritical rhetoric – unless forward-thinking countries like Uganda are supported in their attempts to humanely host refugees.
Uganda, and other countries responding to the South Sudan refugee crisis, only have 16% of the humanitarian funding needed to respond. Hundreds of thousands of children are in urgent desperate need. Let's seize the opportunity to do the right thing by investing in progressive solutions that bring lasting change.