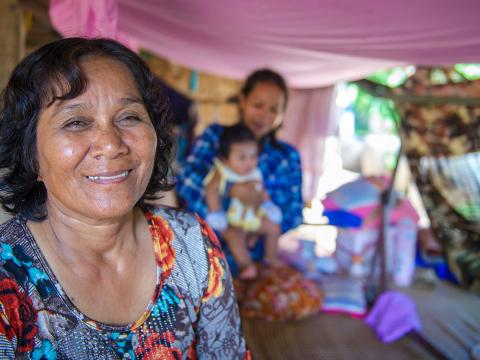 Community Impacted Sponsorship
Thursday, December 14, 2017
Widowed in 1986, Huoy Choeum (age 56), had to become mother and father to her four children.
Sometimes they didn't have enough food. She tried farming, growing corn and beans, but says the crops weren't a good quality.
Even though Huoy's village is near the mighty Mekong River, she couldn't access the river water, just 5 kilometers (about 3 miles) away, to help grow her crops.
When World Vision came, staff set up an irrigation system for the community. That meant Huoy could now grow more plentiful crops.
But the help didn't stop there. "World Vision provided me with a lot of training. I almost cannot count," she says with a smile. Some of the trainings included sanitation and hygiene, agricultural best practices, children's rights, nutrition, the importance of vaccinations, and leadership skills.
World Vision also set up Savings Groups and Huoy joined. This enabled her to invest more money in improving her crops.
Her increased yield meant more money she earns from the sale of the produce. "Then we had money for my children to go to school," she says.
Huoy's children were already too old to be sponsored when World Vision came to the community, but that didn't mean they didn't benefit from sponsorship. All of them participated in World Vision's Youth Club and then became leaders in the club.
Huoy believes that enabled one of her sons and a daughter to get good jobs in a bank. She says of their time of the Youth Club: "That helped them get employed in the bank. [It was a] good experience that they can bring to the bank."
When World Vision started the AC in 2011, Huoy joined. To buy shares, she sold crops from her field and her children also donated. She owns 60 shares. Through the AC, Huoy has access to clean water for her family, but she also makes money from the water the AC sells. Through the savings component of the AC, she saves her money and if she needs to, can access loans at a low interest rate.
Three of her children are married. Sadly one died in 1999. All her children secured good jobs. She has grandchildren who are healthy and they also are sponsored children.
World Vision meant a world of difference for this widow, enabling her to thrive and prosper.