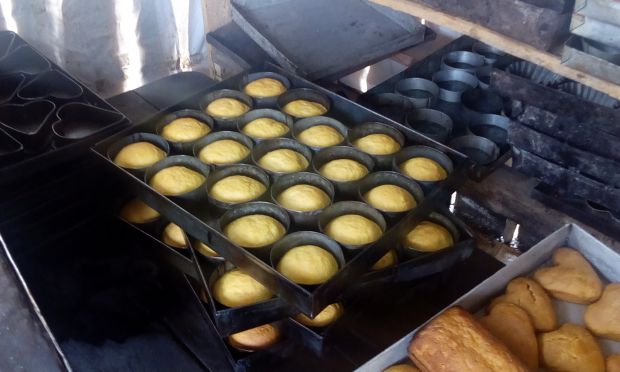 Sammy Sigei is passionate about baking and has been at it for the last 15years. He started off as an apprentice and was eventually employed at a bakery approximately 76 kilometres away from his hometown, Lelaitich, Bomet County.
By the time his employment at the bakery came to an end, Sigei had already purchased some basic bakery tools and equipment with the goal of starting his own bakery in mind.
He moved back home to Lelaitich where he joined Bandaptai Self-help group. Through World Vision Kenya's Bandaptai Economic Empowerment Project (BEEP), the 15 member group was taught on savings and loaning principles, entrepreneurship among other skills.
He narrates that the savings and loaning group was introduced to orange-fleshed sweet potato (OFSP) by World Vision Kenya and educated on its rich nutritional value in Vitamin A, compared to the indigenous sweet potato type. They were also instructed on how to cultivate OFSP on their farms and eventually mill the root into flour.
He first planted the OFSP on 0.2 acres in July last year and got a good harvest, he has now prepared three quarters of an acre of his farm, ready to plant the crop.
Sigei took up a loan of 15,000 Kenya Shillings and built a wooden structure in his homestead which serves as his bakery. Initially he had only been baking with wheat flour but after learning about the nutritious value of orange-fleshed sweet potato and an exposure visit to learn about making and using the OFSP flour organized by the BEEP project, he incorporated OFSP into his baking.
"I began using orange-fleshed sweet potato and realized it was less expensive than wheat flour because it was available in our farms and my profits went up", said Sigei.
He explains that in his baked goods which comprise of bread, round cakes, queen cakes, buns and cookies, he uses wheat flour and OFSP flour at the ratio of one and a half to a half bringing down his cost of production.
"For example, the profit I make on a single loaf of bread was 2 Kenya Shillings, now with the orange-fleshed sweet potato flour it is 5 Kenya shillings", he divulged.
Together with his wife Anna, Sigei, a father of six children, bakes every alternate day and after deducting all expenses he makes a profit of 6,000 Kenya Shillings monthly. Previously, before using the OFSP flour he made a profit of 4,000 Kenya Shillings monthly.
Sigei divulges that his children enjoy helping them in the bakery over the weekends and one of his sons is very good at harvesting the sweet potato.
"We can see they are really working hard. And they are working together. Through their business, I can go to school", said Mercy, Sigei's second born high school daughter who was home for the April School holiday.
Sigei states the cottage industry enables him to pay his children's school fees and they also benefit from vitamin A from the baked goods and the OFSP flour which his wife uses in her cooking.
He discloses that his products, going by the brand name Lesco Home Bakers, sell very quickly. He has hired someone to distribute the baked products using a motorbike he purchased at 20,000 Kenya Shillings from profits from his bakery. From the bakery proceeds and additional loan, he fenced a small poultry house where he keeps chicken.
"I wish I could start a factory for baking, teach the community what I know and employ some. This will also lift the economy of our area", Sigei reveals his dreams.
Sigei is also a director of a local Cooperative Society for OFSP value addition which was registered in October 2016 with a membership comprising of 20 groups of OFSP farmers. He says there is already a demand for the OFSP flour with community members always asking when the cooperative will start milling OFSP flour to sell.
World Vision Kenya through the BEEP project has supported the cooperative society with machinery for value addition of the OFSP by the Cooperative Society. BEEP Project Manager, Tabitha Otieno, said the project has supported the cooperative through purchase of machinery worth half a million Kenya Shillings. The equipment consists of a produce washer, dryer, chopper/chipping machine, deep fat fryer, peeling machine, packaging and sealing machine.
Sigei points out that the cooperative members have already been trained on the use of the machines which they have already used to test the market with their first product of OFSP crisps that were well received and full production is to begin by end of April 2017.
~Ends~
By World Vision Kenya
Communications Officer-Susan Otieno