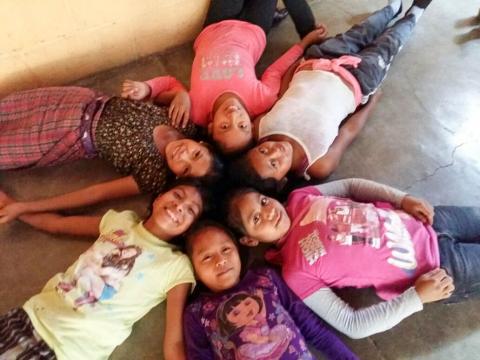 Empowering children and parents for safer communities in Guatemala
Tuesday, February 20, 2018
About 46 kilometers away from Guatemala City, Guatemala, is Caserío San Jerónimo, San Juan Sacatepéquez. Though beautiful, and full of smiling children, the city was hiding a dark secret.
Community leader, María Victoria Pirir, says that there were many cases of familial abuse. "These cases worried us because no one was taking control of the situation. There were many reports of mistreated children."
Another problem was alcoholism. "Sometimes there were food shortages in families because the parents spent their money on the purchase of alcoholic beverages," said María Victoria. "Under the effects of liquor they came to their homes to mistreat their wife, provoking for the children to defend their mother."
María Victoria said that children are affected by familial violence in many ways. Their school performance suffers which results in lower grades. Some children become withdrawn because they fear that someone will find out what is happening at home and report the abuse to authorities. Working with community leaders, like María Victoria, World Vision began to implement the Networks of Child Rights programme.
The Networks of Child Rights programme has been implemented in Guatemala for 10 years. It serves as a platform for training adolescents and young people in advocacy and life skills, strengthening their leadership capabilities, and understanding of their rights and obligations as good citizens. Between 2016 and 2017, over 10,000 children ages nine to 18 years participated in Networks of Child Rights.
As part of the Network of Child Rights, the 'Sembradores de Esperanza' (Sowers of Hope) project was born. It addressed a recognised need for recreational and protective spaces for children in Caserío San Jerónimo.
"It began with the identification of community leaders in topics like child rights and parenting with tenderness," said María Antonieta Pérez, Technical Officer of World Vision. "Since World Vision began working in this community through the Networks of Child Rights, children have been trained in the issues of law and leadership. Fortunately, changes have been seen in the community, as parents are also trained with the issue of parenting with tenderness."
Yesica Yulet Culajay, a teacher in the Sowers of Hope project, has noticed positive changes in the girls and boys who participate. "The children had a negative attitude because of inter-family problems or child abuse, which affected their ability to make friends," she says. "Now the children participate in productive activities, respect others, and share what they've learned with their parents."
Kevin, 12, is a participant in Sowers of Hope. When asked about the project, Kevin said, "I like it. We talk about values, our rights and obligations. My behaviour towards others has improved. My parents have also received talks about parenting with tenderness and improving our relationship with family. On Saturdays we go to church and before we sleep we read the Bible."
Juan Francisco Tepec, Facilitator at World Vision, sees good participation of children in the Networks of Child Rights.
"[The children] are very interested in participating in Sowers of Hope," says Juan Francisco. "They engage with their friends, learn good values, and have spaces to relax. They are motivated among themselves to assist the group. These projects have been very well accepted by parents and community leaders. They support the processes."
María Victoria agrees. "I feel satisfied," she said. "The change has been quite great. The cases of mistreatment towards women or against the children have diminished."
"I like the work of World Vision," says Kevin. "We want children to respect each other and have more spaces to play and have fun."