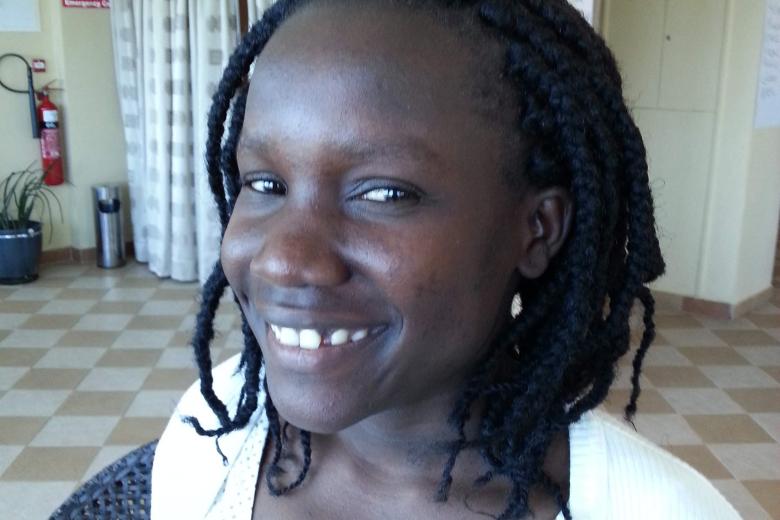 Empowerment is needed to end violence against children
Thursday, June 21, 2018
By Agnes, 23, Youth Activist from Uganda
Hello! I am Agnes from Uganda, I am a young leader, child advocate, peer educator and life skills trainer. I am going to talk about ending violence against girls and boys focusing mainly on child empowerment. 
We must all start with identifying the most vulnerable children through training and raising awareness in our communities to endure no child is left behind. We need to eliminate all forms of violence especially cultural practices that encourage violence against children in all nations. For example, in my community when girls develop breasts, they are married off saying they are now old enough marry. In Uganda, 1 in 4 girls aged 13-17 experience sexual violence. 1 in 10 boys also experienced sexual violence. 
This is why child empowerment is needed and to achieve this, decision makers/EU needs to do three things: 
•Firstly, provide safe spaces for children in schools where we have clubs and societies like debating clubs, health clubs, children's parliament and child participation centers. For example in Uganda, World Vision has Child Participation Centers, DREAM schools where children often come together to share experiences. Children and youth groups that do community sensitizations on ending violence against children through music, dance and drama like Alive With Purpose Youth Group in Uganda. Through these engagements children are able to build confidence and fight for their rights in the community.
•Secondly, the EU needs to provide life skills training to children for example training them on the dangers of child marriage, their rights and responsibility, soft skills like public speaking, software skills like computer skills, clothing and textile, weaving, knitting, beading of bags, necklaces, baskets and mats for sale. They are also able to learn capacity building through leadership training, mentorship, exposure and listening to role models. Provision of physco- social support and counseling to those children who have been abused either physically, sexually, psychologically, economically and others are key elements for children's wellbeing. 
•Thirdly, we must have the agency. When we have opportunities to engage in high level dialogues (like Eurpoean Development Days, Day of African Child, International Women's Day, Independence Day and others) we are able to apply the skills and knowledge acquired from the centers and safe spaces. We want to present and share our views with the policy makes, stakeholders and leaders from all diverse levels so they will be able to hear from us and devise means of solving the issue of all forms of violence against girls and boys.
I would like to provide the following recommendations: 
•I call upon the EU, children, youth, stakeholders, NGOs, governments, faith leaders, UN, EU, AU and all other agencies to stand up and advocate to end violence against girls and boys.
•Ensure implementation of child friendly policies in support of children, planning and allocating adequate fund for the ministry of children's affairs.
•Be socially and politically accountable for children in their community, monitoring and evaluation of all ongoing child related activities to ensure safety
•Set up counseling centers to support children who have been abused and help them heal
•Support all campaigns steered towards ending violence against children. 
I would love to invite all of you to joining World Vision International campaign #ItTakesAWorld to end violence against children.