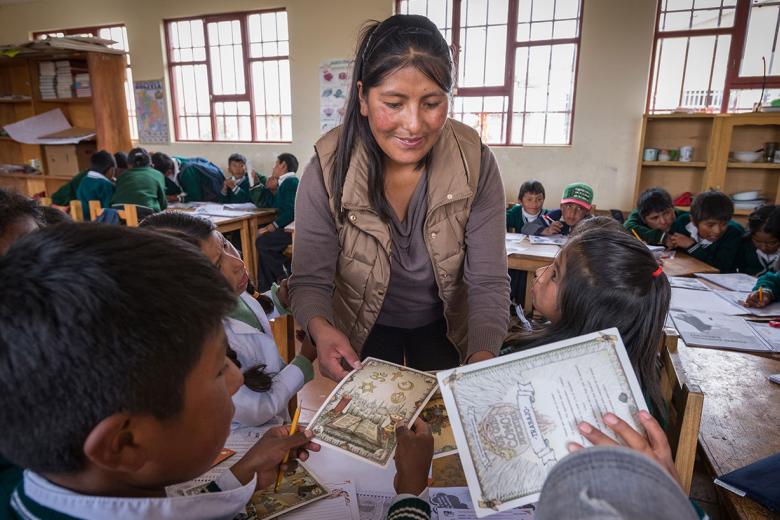 A Former Sponsored Child Dreams Big, Gives Back
Thursday, December 14, 2017
Written by Eugene Lee
Felisa Ramos Valencia, 28, knows the importance of having a dream. She also knows the importance of having people to support those aspirations—and in giving back once the dream is fulfilled.
When Felisa was a girl, her dream of going to college led her to defy traditional expectations for girls in her community and change her own parents' outlook on education.

"For a woman to study in this time it was basically something that was unheard of.  And there was a myth that women could go to school only until fifth grade and that was it," says Felisa, who is now a lawyer. "I am the first girl to have ever graduated as a high school student in my school, in my community."

As a sponsored child in the Soracachi, Bolivia area, Felisa received school supplies and encouragement to pursue her education. Through child-sponsorship funded programs World Vision staff taught her how to talk to her parents about her aspirations.

"After the training that I received, I had the capacity to convince my parents that I was able to continue studying," she says.

Just getting education wasn't enough; she wanted to become a community leader. As a high school student, Felisa volunteered as a World Vision health promoter, teaching people in her community better health and sanitation practices. And while attending university, she organized local women to be a voice in their local municipality. 

With her parents' support and new perspective on the importance of education, Felisa earned an undergraduate law degree. Upon graduation, she went to work for World Vision—the organization that helped her follow her dream of higher education. Since 2012, she has been the facilitator of the Project Against Trafficking of Children and Adolescents. The program lobbies for children's rights and raises awareness against trafficking.

"Now [my parents] are proud that I am a professional," she says.

One a recent day in Soracachi, Felisa led a workshop teaching sponsored children practical steps to guard against trafficking.  The children learned if a stranger approaches them, they should say "no;" run and find help; tell someone you trust; and report the person to a city official.
In addition to the trafficking prevention tips, she also encouraged the children to write stories about their lives to their U.S. sponsors.

"We thank God for having World Vision here in this community because it's a blessing. As a child that has been sponsored in the past, I feel very, very proud of having been one," Felisa says. "So what I'm doing now is that I have come to World Vision to give back what I have received."  
"I constantly tell my students that they have to, like I did, have a dream and never let go of that dream," she says.