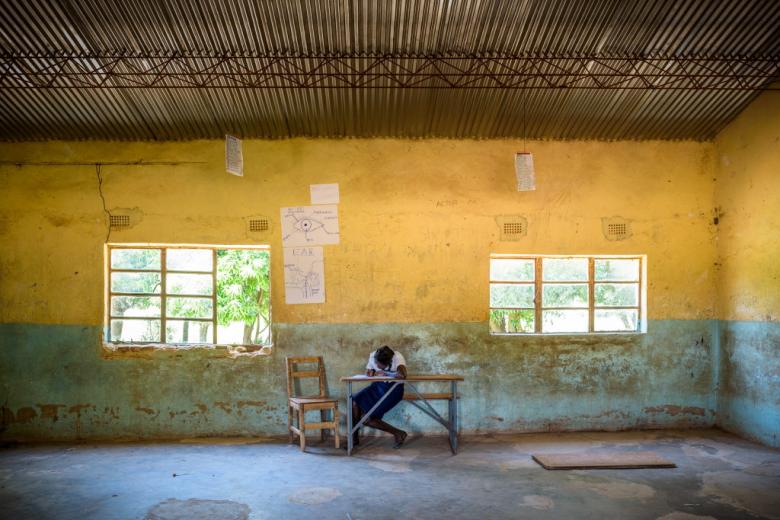 A future without handwashing
Thursday, October 5, 2017
By Dr Emmanuel Opong, Regional Director, WASH and Capacity Building, World Vision International
What if no one ever washed their hands?
Ever. Again.
(And, yes, this includes no hand sanitizer.)
How long would we expect life as we know it to persist?
Well, if you live in a developed country, you might expect that life could still go on for a good while. We have other ways and means of keeping our environment clean, and we could avoid other behaviours, such as shaking hands, to prevent the spread of germs.
But, things would still break down – probably more quickly than we'd expect.
Think about it. . .
In clinics and hospitals, disease and infection would run rampant if health care workers did not wash their hands. In schools and childcare centres, illness would spread like wildfire – especially among the youngest. Public places, like grocery stores, office buildings or shopping malls, would be veritable incubators for disease. Fresh produce would no longer be safe to eat raw. Any surface you touch would be like a petri dish, and germs would transfer much more quickly because there would be an accumulation on the hands of each and every person to quicken the spread.
What would this mean to the future as we know it? We might see:
Many more missed days of school due to illness, leading to lower education outcomes, resulting in lower productivity as adults
More frequent visits to doctors for treatment, leading to higher health care costs and greater strain on the health care industry
A general increase in human illness, leading to compromised health resilience and lower life expectancy
Loss of productivity due to more missed days of work, leading to increased poverty
Higher risk of infection in mothers and young children, resulting in higher maternal and child mortality and morbidity
In fact, in many parts of the world, this is exactly what happens on a daily basis. And this often happens in environments where there are a lot of other factors in play that can negatively affect someone's health – unclean water, open defecation, lack of food security, malaria, poor health care, and more. Handwashing with soap is an even more important protective measure in these places where the risks are so great and the cost is so dear.
Handwashing is often called a 'do-it-yourself' vaccine. Inexpensive and independently done, and it is hugely effective in preventing the spread of all kinds of disease, particularly diarrhoea.
What if we strive for all children, all around the world, to be the handwashing generation – how much brighter would the future be, just with that one simple action?
At World Vision, we've partnered with Sesame Workshop to raise up the future handwashing generation through the WASHUP! Initiative. WASHUP! helps children understand and adopt healthy sanitation and hygiene behaviours. Teachers are trained in good sanitation and hygiene practices, and they use WASHUP! tools games and materials to deliver fun, engaging and educational WASH behaviour-change messages to school-age children.  The programme began in Zambia and is now rolling out in six other countries – Ghana, Lebanon, Mali, Niger, Malawi and Zimbabwe.
Global Handwashing Day is 15 October. Join us on 11 October for a webinar with our partnerr Sesame Workshop to learn about WASHUP! Read more and register.