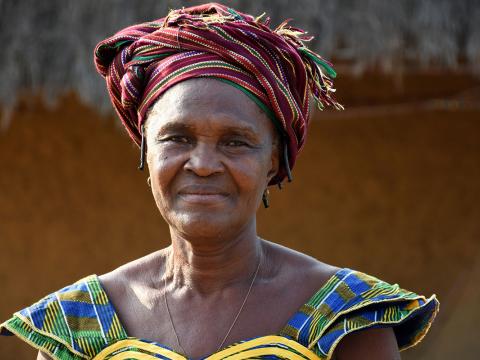 Grandmothers know best: Improving child and maternal health with the help of grandmothers in Sierra Leone
Thursday, January 25, 2018
Katta's story
Katta Gboya gave birth at the age of 17 and lost her child to diarrhea two months later. Katta lives in the Torma section of Bum Chiefdom, in the Bon District in Southern Sierra Leone.
''I was only a young girl who totally lacked experience to raise a baby," says Katta. "So, whatever I was told, I did. But apart from the age, a lot of women more mature than me had issues raising their babies too. We were only following traditional practices."
Now 22, Katta is mother to one-year-old, Joseph. She believes the Grandmother-inclusive Approach (locally called the Mamanieva Project) is a blessing to pregnant and breastfeeding mothers in her community.
''So many children were dying in this community. Many mothers also had complications while giving birth and died too,'' says Katta.
A painful reality
Maternal and infant mortality rates in Sierra Leone are consistently ranked among the highest in the world. Many children don't live to see their fifth birthdays. The lack of proper health facilities, trained health personnel, and the prevalence of nutritional deficiencies, diarrhoeal disease, and pneumonia, as well as poor maternal, infant and young child feeding practices, are some of the key factors responsible for high mortality rates in Sierra Leone.
Rural communities around the world often lack the capacity and know-how to encourage good health for pregnant mothers and for children under two years of age. Torma community is no exception to this.
Hope for mothers and babies in Torma, and beyond
Around the world, grandmothers play a leading role in decision-making related to maternal and newborn care, pregnancy and delivery, and maternal nutrition and child feeding. They command respect in their communities and often serve as the primary caregivers of children. Despite this prominent role, grandmothers are typically not included in the design of maternal, child health and nutrition programmes. They represent an untapped community asset, which, when well-utilised, can positively impact maternal and child health and nutrition, and provide hope for healthier mothers and babies.
In April 2013, World Vision and its partners, the Sierra Leone Ministry of Health, the Grandmother Project, Emory University and Njala University, began implementing the Grandmother-inclusive Approach in four communities through the Mamanieva Project. The goal of the Mamanieva Project was to assess whether the Grandmother-inclusive Approach to nutrition, social and behavioral change could positively impact the nutritional knowledge, attitudes and practices of grandmothers, pregnant women and women with children under two years of age.  
Watch a video about the Grandmother-inclusive Approach in Sierra Leone
How grandmothers are helping mothers and babies in Sierra Leone
Where the Grandmother-inclusive Approach is being implemented, 'grandmother leaders' are appointed amongst the elder women (those 45 years of age and up) in the community. Grandmother leaders assume project responsibilities in their respective communities, and recruit pregnant women, and women with children less than two years of age, into the various grandmother-led groups for advice and counselling.
Between April 2013 and September 2016, 53 grandmother leaders in Torma hosted complementary feeding demonstrations in the community; provided in-home follow-ups with mothers and babies in order to monitor progress; made referrals for pregnant women to antenatal care; encouraged and taught good infant and young child feeding practices; and accompanied pregnant women to health care facilities when they were ready to deliver their babies. Overall, there were 218 grandmothers in the Mamanieva Project in Torma, who collectively reached 325 mothers and 341 children under two years.
Katta's mother, Esther Moiwo, 60, is a member of the Mamanieva Project. She is also the grandmother leader in her community. "I have learned a lot from the Mamanieva Project," says Esther. "We now know what to tell our children when they become pregnant and after they have given birth…We pass on training we receive from World Vision."
Seeing the impact of the Mamanieva Project
Joseph Simba, Project Coordinator of the Mamanieva Project for World Vision in Sierra Leone, is convinced that the project was successful and needs to be scaled up. ''This project is a game changer in the communities where it is being implemented," he says. "There is direct relationship between activities implemented and their outcomes. Healthier babies are being delivered. There is tangible evidence around."
Results from the endline evaluation of the Mamanieva Project showed many positive effects such as:
Greater awareness and nutrition knowledge among grandmothers in intervention communities[1], and more positive attitudes towards recommended practices, especially those related to maternal nutrition, than in comparison communities.
In communities where the Mamanieva Project was implemented, adequate maternal diet diversity was thirty percentage points higher, and women ate on average one more meal than in comparison areas.
Significantly more children in intervention communities were exclusively breastfed during the first week of life, achieved minimum dietary diversity and minimum acceptable diet at 6–23 months of age, than in control communities.
Most remarkable were the positive impacts on maternal and child health outcomes beyond what the project had targeted, including early initiation of antenatal care, almost universal delivery at health centres and a higher average birth weight for children born within the last two years in intervention sites than in comparison communities.
These positive results confirm that engaging and educating grandmothers can translate to sustainable improvements in maternal child nutrition and health and the well-being of some of the most vulnerable children.
Related links
[1] The Mamanieva Project took place from April 2013 to September 2016. The project team allocated one community, Torma, to receive the Mamanieva programme activities. A second community, Fikie, became the 'comparison' group. Community members in Fikie received the Ministry of Health's standard care for maternal and child nutrition but none of the Mamanieva programme activities.