"Working with refugees is mending broken hearts and restoring lost hopes," says Tafessech Tessema, a mother of two and World Vision humanitarian working in Ethiopia's largest refugee camp.
"Every day I travel 50 km drive from Gambella town to Kule camp to visit the refugee community. At the camp I have to walk house to house on my feet to undertake my day to day responsibilities," says Tafessech, a livelihood specialist.
"This is a disease prone area, when you are sick there is no proper medication. I have survived death many times due to malaria," she adds.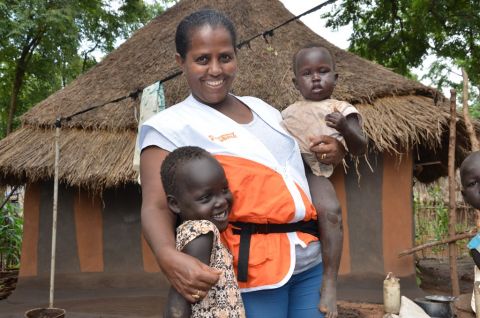 Gambella is home to 380,000 refugees in the western part of Ethiopia – the vast majority who are from South Sudan. In the refugee camps in Gambella, World Vision focuses its work on providing refugee children with education and helping refugee families get opportunities to earn income. World Vision also provides the refugee camp with clean water,
"What encourages me to work under such difficult condition is the change I see in the lives of the refugees."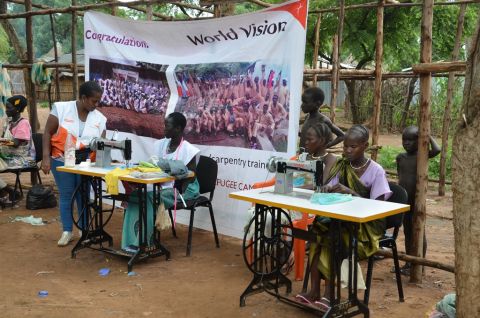 To help refugee families earn an income, Tafessech trained 161 South Sudanese refugees in tailoring and construction. The trainees have graduated recently and started their own businesses.
Tafessech also helped families grow nutritious food, to supplement the monthly food rations they receive. She introduced container vegetable gardening by using worn out jerry cans and growing vegetables in them. She also helped refugees start poultry farming, enabling thousands of refugee generate income sustainably.
In Tongo refugee camp, Tafessech trained both the refugee and host communities modern agricultural practice, among others such as using high yielding seed varieties, fertilizer, harvesting, post-production management, and animal husbandry.
"Amazing change was seen in a short period. A household used to produce 8,000 kg maize produced 50,000 kg. But post production farm works are the responsibilities of women. So it took 12 days for the women to thresh this 50,000 kg maize. To curtail this burden on women, I consulted the local government authorities and bought three threshing machines each with the capacity of threshing 200 kg maize per hour," she describes the success.
Still, the work comes at a personal price.
When Tafessech was assigned to Gambella refugee camp, she promised her daughter to return home in nine months. Now it is nearly a year and she has not yet returned.
"I fall short to give a motherhood love to my children and family. My children were top performing students when I was with them, but now their academic performance is going down from time to time," she explains in despair.
Still, she believes the work is worth it. The changes she sees among the many refugee families she works with "made me continue as a humanitarian worker."