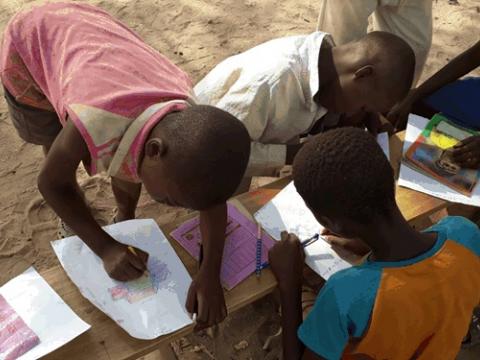 The importance of learning to read in my mother language
Thursday, February 16, 2017
Until I joined a reading programme[1] in Ghana, I used to think that teaching children in their mother tongue was not only a waste of their precious time but also out of fashion. I remember my secondary school days when many of my friends teased students who spoke in their mother languages. They told them that learning their mother language could only get them a job as a magician!
When I was a student, we were taught the letter sounds in Twi (one of the popular languages in Ghana) and how to blend them to form words at the early grade. I still remember how I learnt to read and write in my native Twi language, while learning to speak English at the same time.
There were few story books in my local language of Twi. Those stories profoundly touched my heart and I treasured reading time at primary school.
Children love stories. Stories are the window to their world of fantasy and reality. Children do not want to read just any story book, they want to read books that are engaging and connect to their souls.
Children cannot learn to read effectively, however, if there are few or no reading materials to read. The government of Ghana has a language policy that supports mother language instruction and learning at the early grade level. Teachers, however, have a hard time implementing the policy due to the lack of mother language books in schools. We are working to change this.
As part of its literacy-improvement work to date, World Vison Ghana has produced 126 titles of these mother language stories, part of these titles are stories originally from international open source platforms and were translated into four Ghanaian languages. We have distributed more than 74,000 books for children across Ghana to read. These stories are impacting the lives of children and helping children develop a passion for reading.
Research has increasingly shown that learning to read in one's mother tongue early in school helps reduce dropout rates and makes education more engaging, meaningful and enjoyable for children. Children who benefit from mother tongue instruction and learning also perform better in their second language.
We have seen these results in World Vision communities. In the beginning of the programme[2] in 2016, only six per cent of children could read in their mother tongues. Thirteen months down the line, 60 per cent were able to do so. And, when the fundamentals of reading are taught in local languages, the skills children learn are transferable to a second language. In the same communities where we began to see reading taught in local languages, English reading comprehension also increased significantly, from only seven per cent in to 27 per cent.
In the last two years, World Vison has also been working with communities to develop stories in mother languages to support afterschool reading clubs. The project has trained about 25 community facilitators who hold Writers Workshops with community members. The workshops start off with a story to trigger community members to discuss common issues that affect their well-being. Through these conversations, people are encouraged to tell stories. The facilitators then help capture these stories in writing. Since the stories are in the mother language, the community members take the lead in the editing and creation of illustrations. The stories are then published at a local press and copies are made available at community book banks.
Children love reading the stories that describe things around their community.
They can now read stories in their own language and about their immediate community, and not about snow and dolphins or other unrelatable topics. For example, they do not have to figure out what a seal is or try to imagine one, and they do not feel lost reading about "one cold winter night". The stories are about the plants, camels, goats and the West African folklore spider character of Ananse[3].
Akosua, 13, is far older than the age expected for a child to be in grade six. Now, however, having participated in one of our community reading camps, she is able to read in her mother language. She never misses an opportunity to borrow books from the book bank after a reading camp session.
"I love these books," she says. "The pictures are beautiful and the stories are written in my language."
It is refreshing to know community members are excited about their work and that they are part of generating reading content for their children in their mother language. Aunt Abena, 59, is a participant of the community Writers' Workshop. "I regret that I did not attend school, I would have written many books. Writing a story is not difficult at all. I mean, look how we did it together," she says.
World Vision project officers regularly engage communities and the local ministry of education who ensure the language in the stories is up to standard and that word choice is appropriate. In fact, World Vision has signed official agreements with the Ghana Institute of Literacy, Language and Bible Translators. This agreement is expected to expand the outreach and the development of Mother Language Books.
One final benefit of teaching children in their mother tongue is reading can help bring families together. When I was studying in my mother tongue, my illiterate parents took a more active role in my learning than they were able to do after I reached Grade 4 when all lessons were in English. This parental engagement is important for children's intellectual and social development and is a good indicator of student survival and retention rates. Learning to read in the mother language, bridges the gap between the culture at home and the one at school and society itself. It not only improves learning, it also broadens the general outlook of the education system, increasing tolerance and fostering a respect for cultural diversity.
That is why I believe in the importance of supporting the use of mother languages in learning.
The writer, Andrew Ofosu-Dankyi currently doubles as the Regional Literacy Capacity Building Coordinator for World Vision West Africa Region and Country Education Specialist for Ghana.
Why creating local language teaching and learning materials matters
Children's first language is the optimal language for literacy and learning throughout primary school (UNESCO, 2008a), but many educational systems around the world teach children the national language or one not spoken at home.
Children are more likely to enroll and succeed in school when they're instructed in their mother tongue (Kosonen, 2005).
Parents are more likely to communicate with teachers and participate in their children's learning (Benson, 2002)
In developing countries, where there are limited resources, textbooks in appropriate languages and at appropriate levels of difficulty are shown to be relatively low-cost inputs with high returns in terms of student achievement (Boissiere, 2004).
RELATED LINKS:
[1] The project was implemented by Ghana's Education Development Centre and funded by USAID.
[2] This programme was funded by World Vision's "Education Transition Initiative" focused on improving the quality of children's education, instead of just focusing on building schools.
[3] Ananse (/əˈnɑːnsi/ ə-NAHN-see) is an African folktale character. He often takes the shape of a spider and is considered to be the spirit of all knowledge of stories. He is also one of the most important characters of West African and Caribbean folklore.