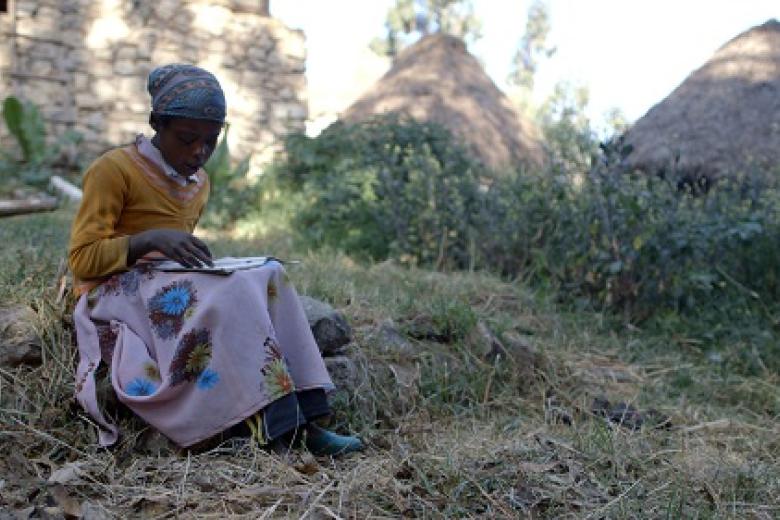 It's simple: without books children can't learn to read
Friday, April 22, 2016
My son is now 13-years-old, but once upon a time he was a baby, perched on my lap, chewing on the cover of The Very Hungry Caterpillar while I tried to read to him. As he grew he chewed books less and paid more attention. We would point out colours and letters of the alphabet. We would roar like lions, laugh at rhymes and make up voices for our favourite characters.
I knew that this interaction was helping my son to learn – that was my goal – but I took one important element of our reading together for granted: I never lacked for books to read to him. I could walk into my local library or bookstore (before the days of online shopping) and find new books whenever we liked.
How can children learn to read without books?
In 2014, I visited World Vision's literacy programming for the first time. I travelled with a small film crew to document the results of a programme called Literacy Boost which was helping children learn to read in a variety of countries and language groups. (You can watch that video here.) Although the programme's results were excellent, and still are, I was struck by the lack of story books children had to read. Many had no books at home. At school their reading materials were weathered, in English (not the language spoken at home) and had to be shared between students. I kept wondering, How do children learn to read without books? The answer: not very well.
Anick, 9, and her father, Emmanuel, two years after they starred in the Literacy Boost video filmed in Burundi. More than 44,000 books have been distributed to 400 reading camps across the country. (Photo credit: Achel Bayisenge / World Vision)
An estimated 221 million school-age children aren't being instructed in their first language in school. Research shows that children taught in a language other than their first have a hard time learning. They are more likely to drop out of school because their teachers and families do not know how, or have the resources, to help them – including books in their first language that are age-appropriate, reflect their lives and are fun to read.
This is especially true in countries where people speak multiple languages – usually those in sub-Saharan Africa and Asia. Not only do these children not learn in their first language, but they're also unlikely to have access to the abundance of reading materials they need to become fluent readers. In light of the new Sustainable Development Goals (SDGs) and education targets, children need to be able to read and learn in their own languages, so they aren't left behind in education.
Partnering with communities provides sustainable solutions
Ethiopians speak more than 80 languages, but the country's official language is Amharic. World Vision, in partnership with St. Mary's University, local publishers and community stakeholders, has worked to create 386 new children's books across seven language groups. One million copies of these books have been printed and distributed to children across the country.
In India, World Vision worked with community members in Jharkand state to create nearly 14,000 copies of 60 new storybooks for children in the Santhali language. Although the majority of people in Jharkand state speak Santhali, they are taught in Hindi in schools. These books were developed for early grade readers using the Devanagari script – the same script used to write in Hindi – making it easier for children to then learn to read Hindi too.
According to her mother, Shanti, 7, has significantly improved her reading and comprehension skills since having access to Santhali language books through her local reading club. (Photo credit: Tiatemjen Jamir / World Vision)
What is clear in both cases is that community partnership is vital to developing reading materials for children where those haven't existed before. Community engagement is a central component to sustainability and true transformation within a society.
At World Vision we want to see all children achieve literacy and numeracy by 2030, as outlined in the SDGs. As a mother, I want to see more parents able to read with their children, and experience the joy of learning together.
Related links: