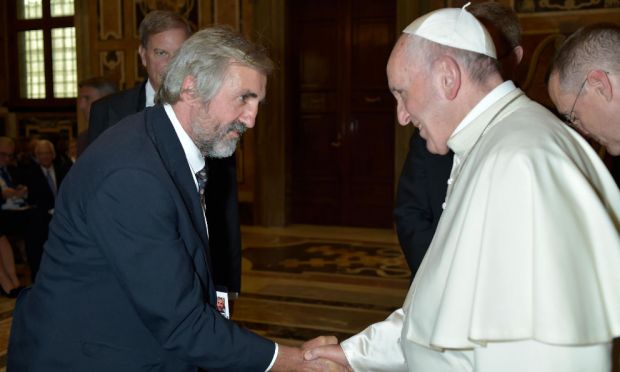 Authored by: Tadeusz Mich, Director of Global Church Partnerships
Technology has connected communities around the world in ways that were previously unimaginable. People can now easily communicate, purchase, and follow news in countries that are thousands of miles away. But with a digital world comes a new space where child protection can be compromised.
Just like technology connects people of all backgrounds, so did this event. Participants included church leaders from different parts of the world, faith-based organisations, governments, academia, and tech companies. The objective was to raise international awareness of the scale of online child sexual abuse and to develop collaborative and effective measures to safeguard minors.
"We have to keep our eyes open and not hide from an unpleasant truth that we would rather not see," said Pope Francis in his address.
Muiireann O'Carroll, a 16-year-old girl from Ireland, presented Pope Francis with a declaration which calls for the world's leaders to stand up for the protection of children's dignity and to strive for safer environments for children everywhere. "This is a problem that cannot be solved by one nation, or one company, or one faith acting alone," said Muiireann. "It is a global problem that requires global solutions. It requires that we build awareness and mobilise action."
I was deeply moved by the Pope's response: "In many occasions, in many different countries, I gaze into the eyes of children, poor and rich, healthy and ill, joyful and suffering. To see children looking us in the eye is an experience we have all had. It touches our hearts and requires us to examine our consciences. What are we doing to ensure that those children continue smiling at us with clear eyes and faces filled with trust and hope?"
Cardinal Louis Antonio Tagle, President of Caritas International, also addressed the issue of children being considered a 'property' in some cultures. He continued by saying that our response to a child's maltreatment should be holistic, intercultural, and interfaith.
Violence affects 1.7 billion children every year in every country and every community, but it's clear that Pope Francis stands with World Vision in believing it takes all of us working together to help ensure all children are raised to live a life in all its fullness, which God desires for them. I was humbled by the Pope's commitment to protect children, his simplicity and humility when he personally greeted each of us.
Participating in the event was a God's blessing for World Vision. As a child-focused, Christian organisation, we were recognised as experts in the field and could connect with other key organisations dealing with child protection. We had the opportunity to collaborate in small groups to further develop partnerships. I was placed with representatives from Microsoft, churches, other faiths, the governments of Germany and Canada, and the University of Hamburg. There was no 'us' and 'them'. There was a feeling of unity as we worked together to discuss and explore ways to eliminate violence against children in the digital world. We do not want to compete. We want to work together on this complex reality.
For further reading, Tadeusz Mich wrote an article for Christian Today.