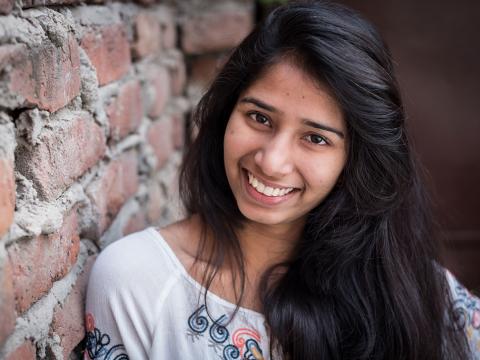 Shivani - A Story of Urban Life in India
Thursday, December 14, 2017
Written by Elizabeth Hendley, Photography by Eugene Lee
Nineteen-year-old Shivani Swaroop works in a small cubicle at a travel agency in Delhi, her phone buzzing nonstop with calls from clients or hotels. Like many interns her age trying to land a job in a desirable industry, she puts in long hours and takes on extra assignments to learn as much as possible.
Though she spends her days thinking about luxury hotels, plane reservations, and travel arrangements, Shivani spends her nights in a different world.
Two hours of travel time and 22 miles across the city — through traffic-choked roads and record-breaking air pollution — the college student lives with her mother, Anita, and brother, Nitil, in Madanpur Khadar, in one of Delhi's biggest resettlement colonies.
Two nights before, the three celebrated the festival of Diwali with fireworks, marigold garlands, and candles. Once a family of five, they're now a tight-knit trio, devoted to one another in a way that only comes from forging through hardship together.
In 2009, Shivani's father, Ram Swaroop, died suddenly. In the months before his death, his alcoholism created an increasingly volatile home life for his wife and children.
"He was well educated," says Anita, "but drinking brought him down."
After his death, her in-laws took everything from the family's home, leaving the single mother with only the four walls of their house.
"I had nothing," she remembers. "It was a very hard time."
Two years later, tragedy struck again. Avinash, Shivani and Nitil's brother, died of a brain tumor in 2011 at age 14. Anita was shattered.
After her husband died, "we were able to manage," says Anita. But after Avinash's death, Nitil became depressed, and Shivani cried all the time. "That's when our bond increased," Anita says. "We had to console each other."
Since then, says Nitil, "We are living, we are trying to be resilient. My mom has worked so hard. If she can rise up in those extreme circumstances, we have no excuse."
Neighbors gave food, but no relatives from either side of the family helped in their struggle. Because of the lack of support from their extended family, "I made sure both my kids know the importance of being there for each other," says Anita. "You never leave your family."
Anita grew up the youngest of six children in a family from Harda, a rural village in Madhya Pradesh state. Her parents were farmers, and their village lacked schools and other basic amenities.
They moved to Delhi in the 1970s so their children could receive an education, but their focus was fixed on Anita's brothers: She was engaged at 13, married at 14, and dropped out of school at 15.
"If I had studied more, things would have been different," Anita says.
Things are different for her daughter. Since she was sponsored through World Vision as a third grader, Shivani has taken advantage of every opportunity to learn and grow over the years: child journalism workshops, seminars on children's rights, field trips to the science center and Lodi Gardens, community clean-up days, youth clubs, and educational support.
As her involvement deepened, her confidence grew. She blossomed from a reserved, shy adolescent to a determined, articulate young woman, says Amrita Singh, a World Vision staff member who first met Shivani seven years ago.
It was Amrita who recommended Shivani for the vocational training course that led to her internship at the travel agency. She knew Shivani has always been interested in travel.
With two months left at the internship, Shivani's already planning what's next. She'll apply for airline ticketing jobs at other travel agencies — "small steps," she says, to her ultimate goal of becoming a flight attendant.
"I want to live a busy life," says Shivani, though she already does. After working at the agency during the day, she returns home at 8 p.m. to eat dinner before going to a study center for two hours.
She is in her second year of a bachelor of arts degree, which includes political science, economics, and Hindi. Nitil is also in college. He's studying toward a three-year bachelor of commerce degree in hopes of eventually working for a multinational corporation.
Like his sister, Nitil's working hours are spent miles away from Madanpur Khadar. He used to work at a Land Rover and Jaguar car dealership, but now he just started working at a designer clothing boutique. It's the kind of shop where the price for a lehenga (skirt and blouse set) is equivalent to his month's salary.
His first month he'll earn 9,000 rupees (US$138), then 10,000 (US$153) per month after that. He gives his entire salary to his mother.
As a single parent working a low-paying job as a maid, Anita has accrued significant debt over the years — she estimates it's 30,000 rupees (US$460). She doesn't make much as a maid even in a wealthy neighborhood, so with help from Nitil's salary and Shivani's internship stipend of 3,000 rupees (US$46), she's chipping away at the amount. It's a continued source of stress.
"It would have been easier to get [Shivani and Nitil] out of school and work," she says, like 47 million students across India who drop out of school by 10th grade. "But in the long term, it's better for them to have education and a career."
She's seen in her own life how a lack of education has lasting consequences. For Anita, her family's move to Delhi in the 1970s didn't create a path much different than the one planned for her in Harda, her hometown. She wed in a child marriage, dropped out of school, and, as a widow, depends on her children.
It's taken another generation for change to take root, wholly through Anita's perseverance to make a better life for Shivani and Nitil. She's done the hard work of setting them up for success, and they're taking advantage of the opportunities World Vision brought to their doorstep in Delhi's inner city.
Decorating their home the night of Diwali, Shivani carefully places small candles along the steps to the front door, the soft candlelight illuminating her face. The candles, traditionally used to celebrate the festival, signify light triumphing over dark — just as Shivani, Anita, and Nitil together have overcome the hardships of the past decade. Now, bound with new strength, they're moving with hope toward the future.
Editor's note: Since the initial reporting of this story we're happy to say that Shivani has now found full-time employment at a local travel company.