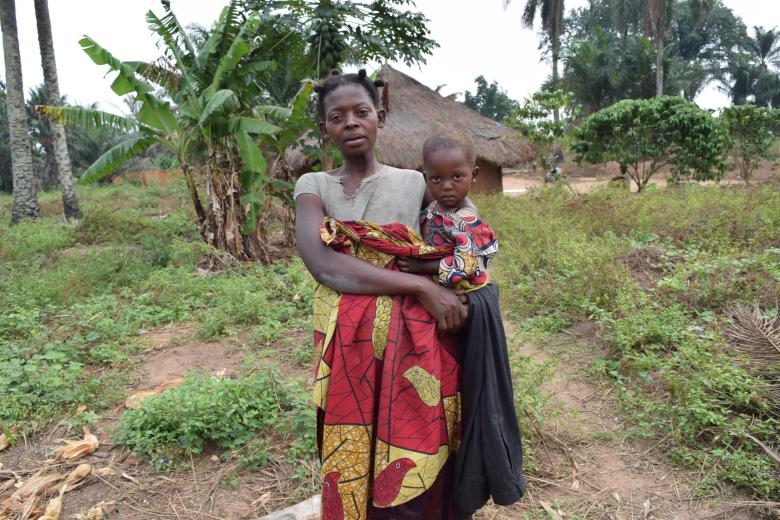 Struggling for peace in Dibaya | Kasais Crisis in DRC
Thursday, September 7, 2017
Mado lives in a small village in the Dibaya district of the Democratic Republic of Congo with her husband and four children. They're 85km from the regional capital of Kananga, in the Kasai region, and until a few months ago their village was quiet, with just the bustle of people selling things in container shops and tending small farms.
This quiet life was suddenly interrupted four months ago, when the Kamunia Nsapu militias arrived in their town. Mid-afternoon on the 12 May, Mado gathered her children (all under five years old) and ran past burning homes for the safety of the bush. One of the burning homes was theirs.
"When the attack began, we all fled the village. No one was left." Mado told us.
"Hiding in the bush was terrible; it was a real struggle. We were sleeping on the ground with the children. And whenever it rained we all got soaked through as there was nowhere to shelter. I tried to find cassava leaves to eat, and gave them to the children to get something in their stomachs. My children got sick and I didn't have any medicine to give them. The fact that they are still here is just by the grace of God, many of the other children who were in the bush with us died. You can't imagine what it was like out there."
When the family finally ventured home, they returned to find their house and belongings burnt to the ground. It was another blow after already surviving so much.
"When we came back from the bush, many houses were burned, including ours. All of our possessions were destroyed, including the really valuable ones like my husband's bike, my sewing machine, and my diploma. It was like being stabbed in the heart, seeing all of that. I couldn't breathe." Mado remembered
"Sewing was my livelihood. I was well known for my skills in the village. Now I've lost my sewing machine due to the crisis. There's no point in being a seamstress without a sewing machine. What am I to do now?"
The loss of her husband, Médard's, bike is another challenge. "The bike helped me to earn money for my family," he told me. "Now my family is struggling, and we don't have anyone to turn to to help us recover."
It was a relief for Mado to meet World Vision when we arrived in her village to work on opening a Child Friendly Space. It was the first time any help had visited the village. Once opened, the CFS will be a place for children, including Mado's, to recover from their experiences in the conflict and in the bush. Children will be able to play and work through any psychological trauma, gain confidence in themselves and self-expression, all under the watchful eye of a trained psychologist and child workers.
"We're confident that World Vision's presence here is going to make life better for our children. They all had experiences that were really difficult to digest during the attack, and the CFS will help them get back to normal. We all just want to regain our lives and live in peace." Mado finished.
DR Congo's Kasai region has been rocked by attacks and counterattacks by militias and different armed groups since mid-2016. Families are slowly returning home since August 2017, but many have to start over. World Vision is distributing essential food, building 6 CFS, and distributing back to school bags to 15,000 children - you can find out more information about the response at www.wvi.org/emergency/kasais-emergency.