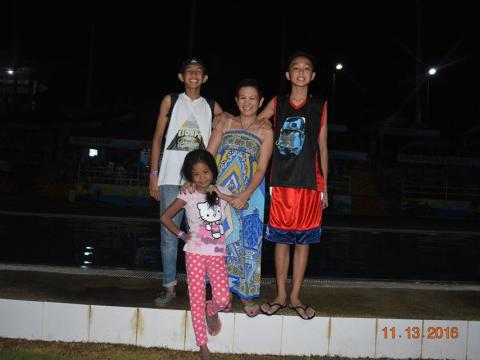 Surviving Nock-ten
Monday, December 26, 2016
It was around four in the afternoon when the rain started pouring. Like any other rainy day, it was just light showers at first and the restless wind whistled.  But at 8:30 in the evening, the electricity was cut off and the rain became more persistent while the wind fearlessly roared and kept getting louder. I started praying really hard.
Prior to the Nock-ten's landfall, my father and my eldest child installed straps to secure the roof. I'm proud to have responsible kids. Every year, Bicol region experiences typhoons so they were trained and prepared with their quick run bags; always ready for emergencies. After securing our things, we left our home and sought shelter in my parent's house. It was Christmas day so most of the family gathered at the house and my kids, especially my daughter, found playmates in her cousins. It kept her mind from being distracted by the loud sounds of the wind. At 10pm, we felt the typhoon's wrath. Floodwater started entering the house. 
I remember praying really hard then and to my comfort the situation didn't get worse.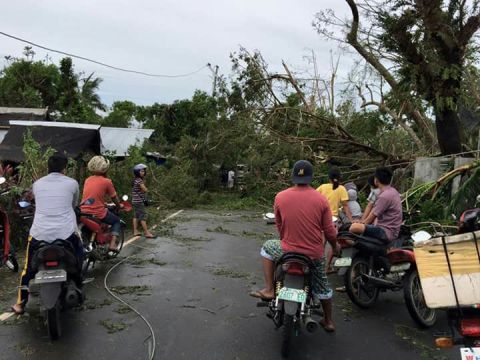 When a mother senses that her children are in danger, an indescribable fear grips her. My fear gradually mellowed down when I looked at the mature way my children were handling the situation. They were worried about our house, saying, "Ma, paano yan? Hindi pa kami nakakatapos sa paga-aral, di ka pa naming matutulungang magpatayo ng bago (Ma, what now? We're not yet finished with our studies so we won't be able to help you build a new house)." They know I'm a single parent and house repairs would mean extra budget. 
"Ma, what now? We're not yet finished with our studies so we won't be able to help you build a new house."
At 01:00 in the morning, the typhoon finally calmed down so we decided to go back to our house. That is when the reality of the damage started sinking in. Parts of the roof were ripped off and the windows were broken. This wasn't the kind of Christmas celebration we anticipated but I'm still thankful the bigger things in life, the safety of my family members. Now that Nock-ten has passed, I know there's a lot to be done. There are communities in need of help and there are children who may be welcoming the New Year without a home. It's heart breaking. 
As I wait on standby for World Vision to start mobilising its emergency response team on the ground I know how it feels to lose something so I prepare myself to extend whatever support and help needed.