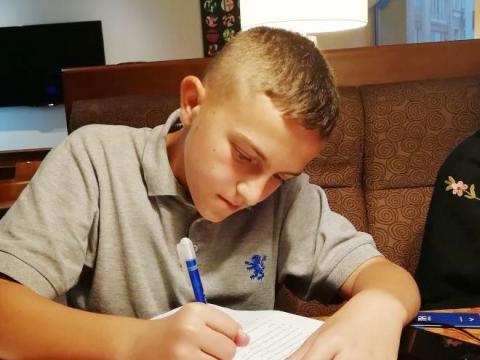 Violence Against Children: We still have work to do, but every small step counts
Tuesday, June 26, 2018
By Suelv, aged 14, Young Leader from Albania
Hello, my name is Suelv, I am 14 years old from Albania. I live in the coastal city called Vlora. I want to talk about ending violence against children especially physical, psychological and verbal violence. I would like to emphasize the importance of child participation in making a change in children's lives and especially in empowering girls.
Ending violence against children
My friends and I are engaged in many different activities such as training and campaigns to prevent various forms of violence, including physical, psychological and verbal violence.
We have made many efforts and carried out lot of initiatives, which in most of the cases had been successful, to stop violence. Some of them were: 
-Meetings with teachers, parents and psychologist to talk about the different forms of violence happening in schools. 
-Meetings with parents and children to talk with them about the violence in the community. In these meetings, parents, children and psychologists gave their opinions on what we should do to prevent the different forms of violence.
In our schools during the extra-curricular activities, we have shown videos of the consequences of violence and we have done the same thing with our parents and teachers. We have had wonderful results as the violence has decreased a lot.
One of the biggest achievements was the recommendation that we sent to the government to reinforce the law to punish people who use violence against children and this was a wonderful experience as it was amazing to see that all these parents, children and teachers after so many activities became more conscious of the consequences of using of any form violence.
Children are the present and future leaders of our country
I think that children should get involved in decision-making around issues that are important to us because we have a strong will to participate and want our opinions and voices to be heard. In my case, I can say that I have been part of every important decision-making process in my school, family and community, and I am proud of my contributions. In order to this, we ask the adults to support us in giving us space and opportunities to participate and to raise our voices.
I have a story to share. It's about a boy I know who is about my age and is a really shy person. He enjoys reading novels and fantasy books and enjoys being wrapped up on the imaginary world of his own. His story started during sports week at our school, where everybody had a duty and a team except him. He isn't really keen on sports, so when the games began, everyone started making fun of his lack of sports abilities. What started as a joke ended up in everyday bullying, people calling him all kind of rude names; this was the moment we knew we must do something to stop it. So, our group decided to invite him to our meetings, and together we shared memories, thoughts and ideas and we welcomed him to be part of our group. We did different awareness campaigns around bullying at our school showing everyone its consequences, and then we did focus group discussions with different classes to help them understand how someone who suffers from bullying can feel. 
We happily have seen improvements since then; the boy is now friendlier, has a lot of friends and is smiling all the time. We still have work to do, we know, but even if it is a small step, it counts.
Girls' participation and empowerment
In my opinion, discrimination against girls is very unfair. Girls should have equal opportunities, get the same education as boys and be respected as boys are. In our child protection group, we have the same number of girls and boys and all have equal opportunities and their voices are always heard and taken into consideration. With educated girls, we will have a more civilized society.