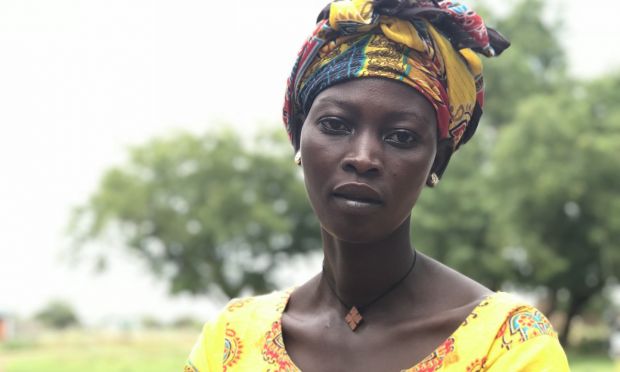 They are just like all the women of the world I met. They are like those from the typhoon belt in the Philippines, those in displaced camps of Iraq, those in the remote parts of Thailand and Laos, or those among the ruins of Nepal's devastating earthquake.
Indeed, South Sudanese women are the face of courage and resilience. There are a lot more inspiring descriptions I can recall, but if I sum them up in two words, those are the most apt.
I have never seen eyes so resolute in the face of such a horrifying journey of life. A terrible feeling washed over me when 30-year-old Regina's eyes flashing with defiance after she broke down in silent tears. She told us how she got raped over and over, many times when she came out of her house to get food and as she ventured into the bush to get firewood for her family's needs.
I never felt so helpless as I listened to her share the feeling of shame when neighbours talked behind her back knowing what she went through. As if she asked for it.
Knowing that she spends time meeting other women who had the same harrowing experience like hers in World Vision's nutrition centre gives me a bit of relief. There, the women get to learn life skills and how to prevent gender-based violence in their communities.
It is not enough for these women to live a life protected from harm but having the staff to run to for refuge and share their stories with are steps in the right direction.
I cannot even begin to wonder how many millions of Reginas we have all over the world. They suffer in silence and persist to live because they have children to raise and protect from the evils of the world. I cannot.
But we all know this is happening. Stories told like hers keep reminding people in high places of the urgency to act and stop the violence as it gnaws the very fabric that keeps humanity intact. Children need their mothers. You and I very well know what happens when they lose them, albeit in a painful manner.
If we want to protect the children who are the future of the world, we must protect their mothers. Mothers are their first line of defense. I should know. I am one.
Without it, children will be open to predators waiting to swoop on their vulnerability. Just like 12-year old Sylvia's plight. The conflict in the country made her into an orphan living at the mercy of relatives. With tears rolling in her eyes, she shared how she has to do all the work in the house.
Her only solace is her time joining the activities World Vision organizes weekly in a Juba nutrition centre. She said it is the only one she looks forward to after doing the backbreaking work.
I wish I can tell every child in the world to stop complaining and start appreciating what they have, especially having parents who love them and try to provide them with all their needs.
Sylvia deserves that, too, just like any other child. But she does not have it. She fends for herself. She survives on her own. Despite the people around her, she looked alone and lost.
Apart from the staff in the center who listens to her and tries to provide what she needs within their means, she has no one but herself. Imagine all that hurt and misery kept. There are so many Sylvias around us. You and I should look out for them.
Then I met 55-year old Teresa, a mother of seven. She was a ray of hope. In fact, most of the women I talked to during the distribution activity for the cash assistance program. Teresa receives USD45 monthly for six months to support her family's food needs along with 14,000 households or 84,000 people who were registered with the program. It was her last month but she was very thankful.
On her last USD45, she plans to buy a female goat and make sure it bears more to help earn income for the family. "I understand that the program needs to help other women. We need to apply what we learned during the business skills training. I have a small business in the market. It is helping our family a lot. Thanks to World Vision for the training", she said.
Wilma shares the same positive experience. Radiant in her yellow dress, she was profuse in her gratitude to the program. When conflict broke out and they ran for refuge in Juba, she said her family brought nothing except the clothes they wore. With the cash assistance, she established a small business selling ground nuts in the local market. She earns at least SSP500 (USD3).
It is almost a pittance for the hard work she has to do every day. But she is happy. Wilma said World Vision helped her prove to herself that she too can earn and feed her family. "I manage my income and is able to pay for my children's school fees. The assistance and the training mean a lot to me," she added beaming with pride.
Women can find a way from a small beginning. They can make it grow and flourish. You know we can.
I know that every woman's suffering, oppression and setback make the world much poorer and bleaker. A woman, a mother, a sister or an auntie help make the world go round. The triumph of every woman is the triumph of every child. You can never separate that.
When I was growing up, I cannot forget we were often reminded that fathers are the posts that keep the house standing. The mothers are the ones that provide the light to that house. Imagine if that light goes out.
The women of South Sudan taught me I need to be strong, to stand up in even the most daunting challenges. They showed me that I can brace adversity and I am capable of it. I am a woman and my role is crucial in raising and protecting children.
They have once more affirmed that as women, we cannot let our guard down. The children's future is in our shoulders. The light must keep burning.