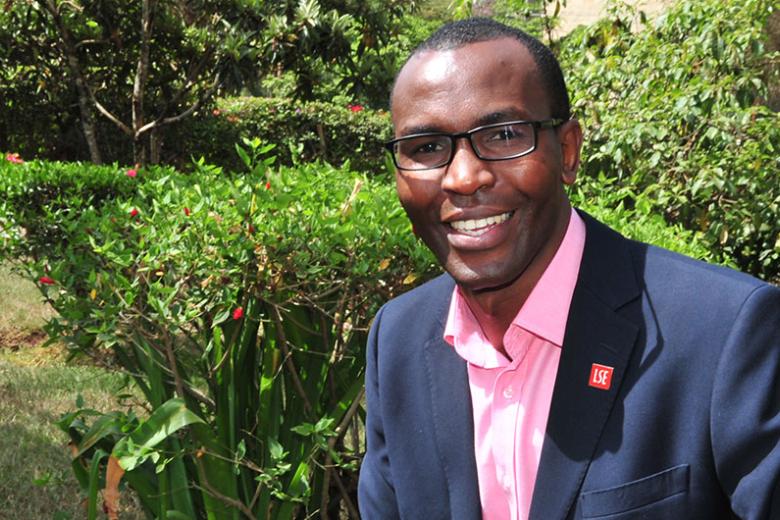 When a child is given a chance: Former sponsored child now a Harvard graduate
Tuesday, November 21, 2017
Written by: George Ndung'u Kamau
Growing up in Trans Nzoia, Kenya, my greatest wish was to escape the harsh reality of my family's poverty. I dreamt of becoming a pilot, traveling the globe and being the person that would bring hope to my village. My parents struggled to make enough money to provide food and other basic needs including school fees. To augment my father's meagre income as a watchman, my mother worked a neighbour's farms.

Reading provided an escape from my family's difficult life. Books were hard to come by in my classroom, which was cobbled together with a mix of uneven earthen walls and planks of wood. The roof had brownish aged leaking iron sheets, but it was World Vision's Child Sponsorship Programme that launched my path out of desperate circumstances. Thanks to our pastor, when I was eight-years-old, World Vision enrolled me in the Child Sponsorship Program marking a turning point for the greatest change in my life.

As a sponsored boy, I got access to education and healthcare. The Bacillus Calmette–Guérin (BCG) vaccine mark on my left hand is a constant reminder of the healthcare I received through World Vision. I recall trekking a distance of 10 kilometres to and from our home to World Vision offices to deliver my report cards and collect letters from my sponsors, which I treasure to this day. In one of the letters, the sponsor urged me never to give up on education and dared me to dream big.

I emerged the best student in my school with results that broke the school's records and eventually joined a good high school. My elder brother sacrificed his meagre salary to pay my high school fees and associated costs. All through high school, I was among the top performing students making way for me to proceed to university.

After graduation, and post-graduate certification for Journalism and Communication, I landed a reporter's job in two national circulation newspapers as an environmental features writer where my weekly environment pull-out received accolades from practitioners in the media sector.

After two years in the media, I got a job as a communications officer at an international not-for profit organisation where I prompted the organisation to re-establish a fully-fledged communications unit that I managed. I became the youngest member of the senior leadership team.

I was named the best photographer within the organisation for three consecutive years and also garnered awards in case study writing competitions. The awards came with a price worth GBP 1,000 which I used to pay for part of my MA in Communication.

With time, I rose through the ranks and I got opportunities to work on many thematic areas including WASH, disaster risk reduction, humanitarian response, climate change, advocacy and livelihoods.

This experience birthed a desire to learn more about humanitarianism. I applied and got the admission offer letter with scholarship worth GBP 30,000 from The London School of Economics (LSE) and Firoz and Lalji Foundation. The school even waived for me the application fees of GBP 50! I couldn't wait to join LSE.

After my graduation, I was selected to be part of the prestigious Urban Humanitarian Course offered by Harvard University in Boston, United States. I have shared my experience and applied the skills acquired through volunteering and consultancies.

I have also published in revered journals and publications on thematic issues including social protection (cash transfers in emergencies), climate change, HIV and AIDS, social accountability, governance and education.

While many would be satisfied with a good job and a better life, I believe there is more I can aspire to achieve for the benefit of many in my community. I want to pro-actively work for the development of the disadvantaged and the deprived community because I know the techniques of winning in some of the most challenging life struggles.

I have compassion for disadvantaged children. I will forever be grateful for the opportunities I have had and recognise how different my life would have been without an education. World Vision's support to education and improving livelihoods has gradually paved the way for change in my family and society. I am thankful to World Vision as well as to my sponsors.
Child sponsorship empowers children, their families and communities to help break the cycle of poverty. When you sponsor a child, you provide access to basic necessities such as food, clean water, education and health care. In 2016 over 3.2 million girls and boys were sponsored through World Vision.