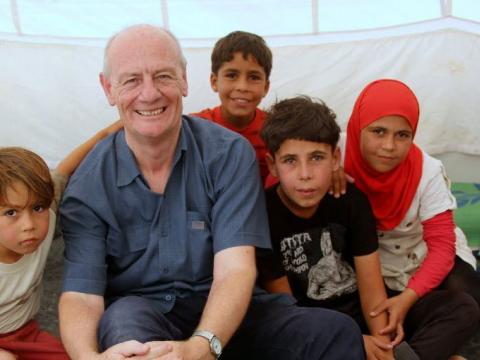 Why Easter is all about paradox
Wednesday, April 12, 2017
By Tim Costello
On that first Good Friday, Jesus' final words on the cross "It is finished" was His triumphant cry. It marked the extraordinary birth of something else. His mission became the mission of His followers. He entrusted them to proclaim and authentically live out the reality of God's Kingdom. To carry out the mission of reconciliation (2 Corinthians 5:18-19) and therefore be God's ambassadors. To be lights in the darkness.
Jesus showed the way, through paradox.
You can't have Palm Sunday without it being followed by the terrible events of Good Friday. And you can't have Good Friday without acknowledging the resurrection of Easter Sunday.
Supposed triumph turns into apparent tragedy and is followed by a genuine triumph.
Holocaust survivor Elie Wiesel wrote of seeing a child shot by a Nazi guard at a prison camp. The child's distraught parents asked, "Where is God?" A rabbi told them, "God is with the dying boy."
It's another paradox. More than 70 years on, the presence and meaning of God - and of evil - are sought in the senseless violence against children in war zones, in poverty and injustice around the globe. 
For many, the injustices may reinforce the view of a world of disorder and savagery dominated by the cruel and fanatical.
Yet God is revealed through Christianity as the God of the downtrodden and suffering. He requires us to follow the example of Jesus and to stand firmly against injustice.
Christianity has never been a religion of pessimism that threatens at times to weigh us down. It means saying we believe that through God all things are possible, that the world can be transformed and that lives can change.
Scripture gives us the word of Jesus in Luke 18:16, "Let the little children come to me, and do not hinder them, for the kingdom of heaven belongs to such as these."
World Vision International's It Takes a World campaign fights against the epidemic of violence against children. It addresses trafficking, child labour, exploitation and child marriage. It aims to inspire a global movement to keep the most vulnerable members of society safe.
 It is our job as Christians to be at the centre of that movement.
God could have made things simpler, creating us with no doubts, no evil and no sins with which to battle.  But then there would be no freedom or creativity.  No faith. We'd be robots or, at best, angels with no experience of what it is to be human.
What if Jesus had said, "No" to the sacrifice? What if, in the darkness of the Garden of Gethsemane, before the soldiers came, He thought: 'No. Forget it. This is too hard."
Then Easter would really be the unsettling prelude to darkness.
Christians, seeking some meaning for the world's horrors, point to Christ suffering on the cross. On His cross Jesus identified with all the children who suffer. He knew their pain and their need.
Jesus went to the heart of evil and saw it, experienced it in all its horror. He knew what he was doing. He was exposing the reality.
The concept of God who loves does not easily fit into the modernist view of the world. It is too big. Too strange. Too confronting.
How can we comprehend a God that knows the exact numbers of hairs on our heads?  How do we comprehend a God who is present in the suffering face of the 5.8 million children who experience violence? How can we comprehend a God who is willing and able to grieve with us; to die for us?
It is a mystery, unless He genuinely cares for all and wants us to play a part in kingdom building.
The Resurrection is the bridge between broken people and a Holy God. It changes everything. The message of Easter is that God loves the world and requires us to share that love. We must feed the hungry, protect children against violence and comfort the broken-hearted wherever we find them.
The Resurrection launches God's new world "as it is in Heaven". It speaks clearly to us of hope in a fragile, damaged geopolitical world. It energises us to continue Jesus' mission by following His example.
As 1 John 3.16 states: "This is how we know what love is: Jesus Christ laid down his life for us. And we ought to lay down our lives for our brothers and sisters."
The message of Easter is that God loves the world and requires us to share that love and be ambassadors of the Good News.