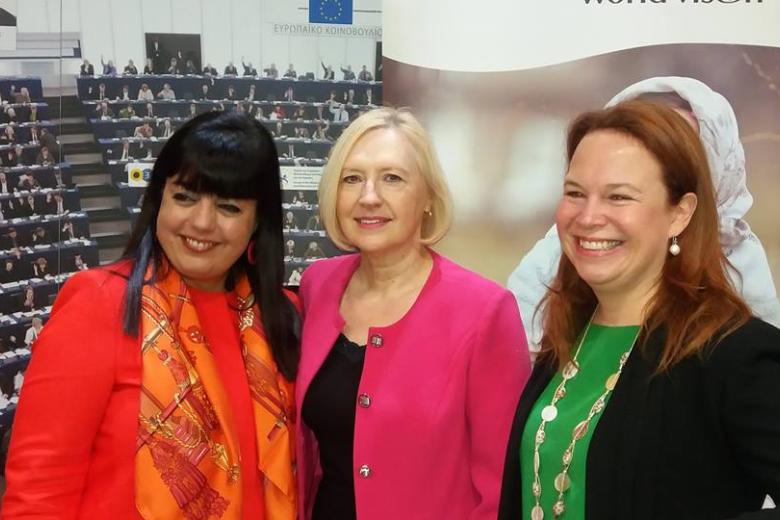 Women, Peace and Security: Lessons from Cyprus
Monday, November 21, 2016
World Vision's work in peacebuilding has shown that peace processes that meaningfully engage women and girls create the foundation for sustainable peace and development. The importance of including women and specifically engaging women in peace negotiations is integral due to the multiple perspectives: women and girls carry deeper insights into security issues and experiences in conflict and post conflict conditions. Young women's participation is important in identifying local solutions and influences that can be utilised to achieve desired peace and social change. Peace and security programming that supports gender equality projects is vital for women and girls to participate in building peaceful communities, economic recovery and prevention. UN Security Council Resolution (UNSCR) 1325 along with its subsequent resolutions on youth, peace and security and UNSCR 2250 urged all member states and its actors to increase the participation of women and youth to incorporate gender perspectives in all peace and security efforts. The aforementioned UNSCR 1325 mandates that women participate in the making and keeping of peace in the international arena.  The adoption of such a policy is a testament of the recognition of gender inequities and the contributions of women's activism around the world. 
On 4 November 2016 World Vision Middle East and Eastern Europe Regional Office with support from the Friedrich-Ebert-Stiftung and the Cyprus Women's Lobby brought together leading experts from UN Women, Centre for Women's Studies Zagreb, Engi Conflict Management and University of Kent Fellow along with diverse nationalities living in Cyprus for the 'Pathways Towards Sustainable Peace Building Conference'– United Nations Security Council Resolution 1325 – in the Cyprus context. The purpose was to engage in the implementation of UNSCR 1325, what it means, why it matters, but more importantly how it is implemented in the everyday lives of women in Cyprus. 
Key-note speaker Ambassador Mara Marinaki, the Principal Adviser on Gender of the European External Action Service Gender and on the implementation of the United Nation Security Council Resolution 1325 explained, "Resolution 1325 is not a panacea, but it is certainly a solid platform on which to build long-term and 21st-century policies that should be the backbone of our decision-making political realities for the years to come," She explained that women should be part of the political reality and be part of the political decision-making process. 
Also speaking at the conference, the Special Representative of the UN Secretary-General and Head of the United Nations Peacekeeping Force in Cyprus (UNFICYP), Elizabeth Spehar said that "Women cannot be missing from that equation. Viability and sustainability of any agreement will depend on women participation," she said. 
One of the deliverables for the Pathways Towards Sustainable Peace Building Conference was to develop an integrated and inclusive dialogue on young women's roles in a post-solution Cyprus and to generate a 'White Book of Best Practice' edited by the conference organising team to propose a set of guidelines to promote the women, peace and security agenda as a core dimension of the larger discussion of the Cyprus peace building process. The publication supported by World Vision Middle East and Eastern Europe Regional Office will serve as a pilot for World Vision national offices who are interested in how to address and implement UNSC1325 in their work. The guidelines presented in the 'White Book of Best Practice' can be used as a pilot to work on how to promote and implement the women, peace and security agenda as a core dimension of the larger discussion of peacebuilding and on how to mobilise local women CSOs and engaging with local authorities by maintaining levels of trust and inclusion.  The White Book will be presented to the United Nations in Cyprus during UN Open Days in December 2016.
In the long term, peacebuilding should contribute to sustainable and equitable economic development, civic empowerment and reconciliation. The importance of women's equal participation and full involvement in all efforts for the maintenance and promotion of peace and security is critical in foregrounding inclusion to advance gender equity.  It is imperative to address the absence of incentives and accountability mechanisms that would facilitate the identification and appointment of qualified women candidates as mediators and technical experts to mediation teams along with adequate training and education in gender issues across the range of subjects addressed in peace negotiation. At the local and community levels, World Vision's creative outreach strategies are useful in highlighting instances where women have played roles as leaders, entrepreneurs and role-models. World Vision's approach to peacebuilding is to ensure that women and specifically young women are empowered and are key agents of change. 
Therefore it is essential to advance the implementation of UNSCR 1325 and 2250. Humanitarian organisations have a responsibility to the international community and, more so, to women and girls who have been categorised as refugees or internally displaced, to urgently rebuild their primary objectives towards a gender-inclusive humanitarian system. 
Sophia Papastavrou is a Gender Technical Lead in the World Vision International Middle East and Eastern Europe Regional Office.