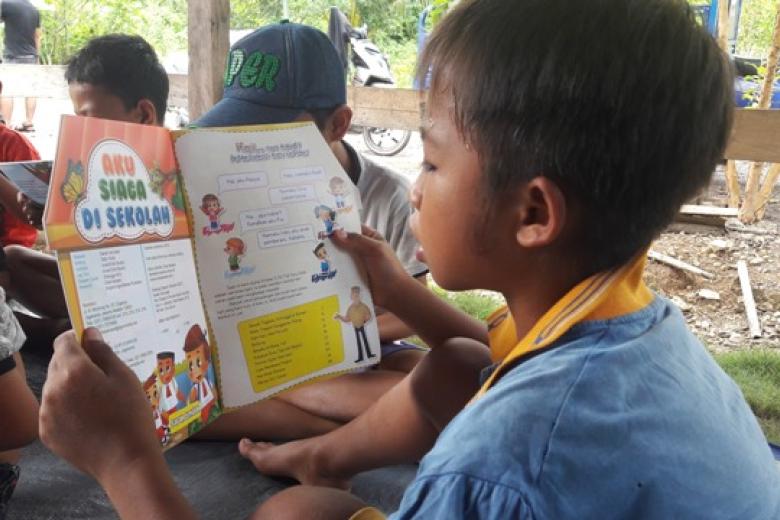 Working with Human Being
Thursday, September 7, 2017
I love working with children especially for the most vulnerable. But, I have never worked with most vulnerable children as natural disaster victims. But, I did.
Last month, in the early of July 2017, as a NDMT (National Disaster Management Team) member, I was deployed to Tolitoli, a district in Central Sulawesi, in order to response of flash flood in some urban and rural areas. It was a little district city that was called 'Clove City' located in Central Sulawesi. I have never heard about this city before and another fact was I did not have any experiences on disaster issues at all. That was my true first time.
Frankly to say, I was up to the elbows working on my area development program when "our NDMT captain" asked to joined the team. I almost refused it. But, coming to think of it, it was a great opportunity for me to learn and experience something new at the new area that I have never touched before.
Becoming a Kid again
Of course, it was not an easy thing. First time I arrived, the weather was so unfriendly. It was raining so hard. Lightning rumbled strongly in the sky. That time, I should be in Child Protection Minimum Standard Training immediately. All the participants seemed nervous. They were fear the flash flood would come again. That day, it rained for more than 6 hours but thank God nothing happened.
The precious time while I was in Tolitoli was when I met with the children at Child Friendly Space. We had more than 15 CFS in this affected area. Some of children were happy because they could learn and play with their friends but some of them still affected psychosocially after flashflood. Approaching the affected children was not easy. We needed a special approach. We must really be in their shoe. We had to be their friend, not a teacher, not a social worker, not a counselor, because the thing that they needed was a friend who could hear and understand them more. I finally became a kid again that time. There was no reason for it. I just want to be their friend. That is all! I did not want to bring a lot of theories to them, I just wanted to play and did some good actions in front of them such as how to wash their hands properly with soap in a fun way. They loved me, because they followed me. I was so glad. Play and learn! After that, in some discussion session, I did story telling. I pretended to be a tree and some children acted as river, fish, villagers, and others. Storytelling was one of the easiest ways to tell them how to protect our environment to prevent this kind of disaster happened again.
"Clean water that shared by more than 5 households in 1 place is the way how the community being a big family of unity in diversity," said Ridwan, 25, an officer of Regional Disaster Management Agency at Tolitoli district.
Finding a New Family
Another issue caused by flashflood was clean water access. Their water source was wells. The wells were dirty and should be drained again. It was so fun when you have to drain the well with the community while telling a lot of things. There were lot information and data I need was obtained by just chatting while draining the well. The same thing happened, when I had to queue open-close road that covered due to landslides for more than 6 hours from the village to the city. I spent time chatting with community who were also being caught in a landslide. I felt closer to them and had better and deeper understanding of their needs. Everything was paid off despite the dirty clothes and wet body. It was so much fun.
I was only deployed a month for the response. But a lot of valuable things I got. I got new family in a team from different ADP areas. I had also learned that the best way to respond to a disaster was to be a complete human being, the humans who could respect each other and make friends with others, with nature and with God.
Written by Franky Febryanto Banfatin
Monitoring, Evaluation and Learning Coordinator of Wahana Visi Indonesia at Nagekeo, Indonesia