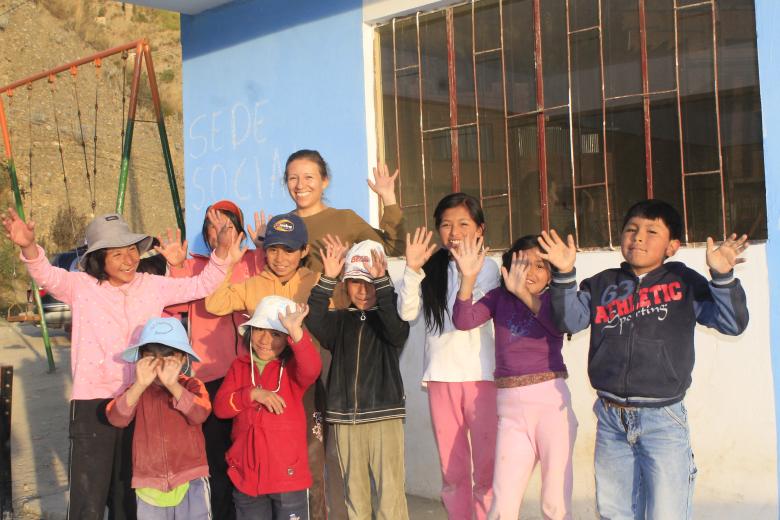 The Lord brought me to World Vision
Tuesday, July 16, 2013
Transcribed by Reyna Baptista
My name is Karol Kim, I was born in La Paz, and I´ve been an actress for 17 years, now I´m a volunteer in an urban ADP of World Vision Bolivia. I work strengthening children´s skills in a new CREB (School Reinforcement Centre of the Neighborhood). The centre was just opened in one of the areas, furthest away from the ADP action area in La Paz city.   
I strongly believe God brought me here so I´m more than happy.  Last year, I worked very close to my house, but this year I couldn´t continue anymore since my contract was over.  Then one day, I prayed and asked, "What do I do Lord?".   I believe He told me through my prayers to come to World Vision - so now I am here. At the beginning, I didn´t like the idea, but then I understood it was God´s will.  Now I´m super happy because I love working with children!
Working here is a different experience in my life.  It takes more than an hour for me to get here from my house, I take public transportation then I walk, since there is no transportation that comes up to the area.
I remember the first day many children came and welcomed me with the will to learn.  I saw their happy and innocent faces, eager to learn and play, so I got excited for all the joy their little faces expressed, they are so affectionate and this is their first experience with theatre.  
First, we need to work on their confidence, for them to trust in themselves and in me as well. These places are very important for children to develop themselves especially in cognitive and emotional areas. I don´t say they will be actors, but they can develop the other part of the brain.
I think it is wonderful, more CREBs should be opened in remote areas like this, because it helps children who are isolated. CREBs benefit more than 30 children in this area who receive school reinforcement in mathematics and language.
I always tell my children to TRUST and BELIEVE in themselves, they can get whatever they want; it is just a matter of being consistent and disciplined. I will be here only for a couple of months, I wish I could stay longer, however, I´m sure whoever comes next to me will fall in love with these kids as I did. I must say this has been an amazing and unforgettable experience!