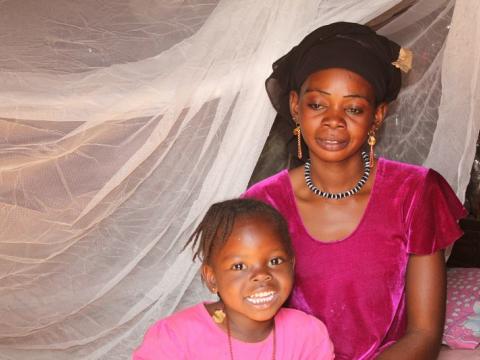 CAR: Mosquito nets for all to prevent malaria
Thursday, February 7, 2019
Central African Republic is among the poorest countries in the world. It has a precarious health system and a mortality rate that rose from 17‰ in 1988 to 20‰ in 2003. Malaria, AIDS and tuberculosis are the main causes of disease and mortality.
Improvement to the health system is key in the fight against malaria. To protect against Malaria, World Vision partnered with others to provide long-term insecticide-treated mosquito nets to thousands of people in the regions northern to CAR.
"Every week I had to leave my carpentry shop for taking my kids to the hospital. But at least I know that from now they are going to sleep under a mosquito net," said a beneficiary.
According to the District Medical Chief of the hospital of Ndele Dr Regis Mady, 90% percent of all consultations are for kids under 5 years-old with Malaria. This occurs mostly during the rainy season.
World Vision's net distribution campaign focused on how best to use the nets and avoid Malaria. Communities in northern CAR have been displaying their awareness of how to wash and dry their nets. In addition to the health safety benefits, beneficiaries are grateful, as they would not have been able to afford the net that cost around 6000 Fcfa each ($10 US). Therese Nabia, 38-years-old stated that she will prioritise her small income for school and food instead of nets or medical treatment for Malaria.
The distribution of 1.985.024 long-term insecticide-treated mosquito nets acquired through funding from the Global Fund will enable the Health Ministry of the Central African Republic, in collaboration with World Vision and its implementing partners, to ensure universal coverage of the net to the vulnerable population.