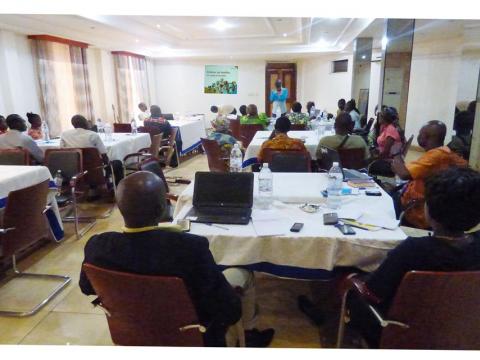 When participants share their experience
Tuesday, July 3, 2018
The family is a whole! Here is probably the answer we hear most of the time, when we ask: what does mean family for you? What is it for you?, etc. The answers vary and are multiple according to contexts and people.
The family allows you to "build" yourself, to learn and to develop yourself.
One day, while we were going to open a workshop on Celebrating families, a colleague told a story which so ended: "… and he declared to his Father:" my friend is a happy child, because he can see his Dad every day!Three day later, this child passed away". I looked at the room; everybody held his breath and seems to be knocked out by this history which highlights the importance of the family, to be in family, to see himself surrounded with his family.
Yes, it's good to know from where we come, but knowing where we go, better it will
The family is from all the times. It is universal and cross-cultural. If its reality evolved in the course of the History and the civilizations, it remains nevertheless on some fundamental pillars.
Here, we publish certain participants testimonies collected after trainers of the trainers workshop on Celebrating Families led in Bangui, in Central African Republic. Participants commit, to change many things in their own families and propagate acquired experiences, during the five days of the workshop.
Mohamed Martial Mermoz
BOMBASSA SONKPE, Religious Plateforms Member
I had a very difficult childhood because my Father was not with me. I lived with my mother up to the age of eight years. I was a very quiet child. I only spoke to close family members and this influenced a lot in my life. When my mother did not understand me, I tried to hurt her. I attempted suicide three times. I told myself that it is no use to live in a family that is not united. This training has shown me how to love. God tells us that He has a plan for each of us. I have committed to do my best to prevent other family members from living the same way as I did. Let us protect our children from experiencing our painful past. We must help our children to succeed.
Clara MBRINGA, Historian / Traumatic Counselor
This training comforted me a lot with regard to my situation. In my childhood, my parents took things lightly. They spent their time enjoying life. When they passed away, I was left alone with no one to take care of me. I was forced to drop out of school due to lack of school fees. I then got married and life was very difficult.  This led to the family disintegrating. I made a decision to go back to school until university level. I thank World Vision for having invited us to this training. I would like our spouses to also attend this training. I have made a commitment to restore my family from what I have learnt and to allow my children to grow up in the word of God.
Maxime NGBANGA, Field Monitor, World Vision CAR
It was a real opportunity to learn a lot on family. Now I know that family is important. The woman and children are a family and they need to be respected. Everyone needs to be treated with kindness. I thank God who gave me this opportunity to be here today to share this moment with my brothers. I commit to correct my children in an appropriate way. I stand by the word of God so that the man is respected as he is.
Nicaise GOUNOUMOUNDJOU, Traumatism Advisor
This training helped me a lot and opened my eyes to what the family is. It led to my own healing. Life is a journey. We have to examine our past, acknowledge our present, recognize our future and pursue our dreams. It allowed me to examine my past and see what influenced my father's life. I also did not play the role of a father well. I made my children suffer. I would like to take this moment to apologize to them. I vow to carry them in my arms since they are a gift from God. I will not feel good if I see my children living somewhere else and so I make a commitment before God to take care of my children and family. I encourage everyone to take a fresh look at their families and children and so build the Central African Republic.
Corneille Turibe ZOMO, Health Monitor World Vision CAR
The family is important to me. From this training, I have learnt that our past catches up with us. In order to have a peaceful future, we need to eradicate the bad memories of the past or correct them. It is very rare to see an NGO speaking about God. World Vision, where I work, gives us the opportunity to participate in this kind of training that builds us up. All I can say is thank you. For the next session, I would suggest that we participate as couples or a family to learn together. I have many dreams and this training will be an important contribution for my life. 
Guy José, Traumatic Counselor
I bless the Lord for having allowed me to join the others in this training "Celebrating families: A joint travel".
The Christian faith and the love of one's neighbor has always guided my actions as well as that of my family. But this was put to the test by my brother-in-laws behavior against my younger sister whom we gave to in marriage with blessings from the family.
I did not like my brother-in-law anymore, since he had the intentions of killing my sister. One evening, armed with a knife, he went to my sister's school and tried to kill her, claiming that she was having an affair with her professor. My brother-in-law also scolded my father on the telephone. I did not like what he was doing and I vowed not to speak to him. I pushed away even his children-my nephews and asked my sister to divorce him but my sister refused.
During the second day of this training "Celebrating families: A joint travel" where the facilitators discussed on "seeds of kindness," where it involved looking at the good in someone. I remembered all the good things my brother-in-law used to do and which I had forgotten.
As the session was going on, I noted my brother-in-laws name in my notes. Later in the evening, I called him. Since then, I feel free.
God calls us to his mercy and forgiveness. There is always something good in someone and when others hurt us, we only see the worse in them.
Léon Uranice VOMBIMADE LAMONZOLI, M&E Coordinator, World Vision CAR
"For lack of knowledge, my people die" says the Bible.
I understand much better the sense of this word since participating in the training "Celebrating families: A joint travel".
We do a lot of things like everyone else but our selfishness prevents us from "removing the plank that is in our eyes in order to see well and be able to remove the straw in the eyes of the other person."
The training will be for me the lamp, which will light my way so I will not stumble. Thank you World Vision.