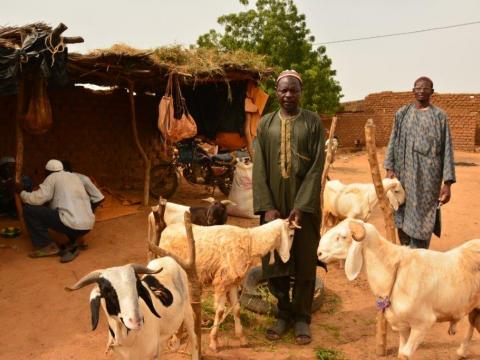 "This crisis has weakened us!"
Monday, October 8, 2018
Mali central region (Mopti), has fallen since 2012 into a deep multi-dimensional crisis that covered all the aspect of basic life. The general instability, in the northern and center of the country has affected all sectors of social development. Due to territorial insecurity, the country found itself in repetitive food insecurity, unparalleled by the lack of rainfall in recent years, this situation has grafted inter-community conflicts that have paralysed specific sectors of development in the regions.
 The sectors most affected by the crisis: food security, health/nutrition, education, WASH, shelter and protection. A total of 328,548 people in the Segou and Mopti regions currently require food assistance. The insecurity has resulted in 474 schools in the Mopti region not being able to open in 2017-2018 as such, close to 30,000 children are being deprived of their right to education. In addition, the crisis is having a negative impact on the agricultural season of 2018-2019 due to a fear of people to go to their fields to cultivate.
Koro district (Mopti region) has been strongly affected by inter community conflicts, which not only paralysed the social calmness but above all created fear, uncertainty and disturbed the daily movement of people and good and economic trade in the area.
In the past Koro was, a well-known border town, for cattle traders, because it has one of the best regional cattle market  in the country, where shepherds and herdsmen of the region use to go, in a weekly basis to trade and buy their livestock.
Unfortunately, the crisis, changed all that as Mr. Antela Togo, a local animal trades explains.  "Before the crisis, the market was open to buyers from various horizons and the price of cattle, sheep and goats was very affordable, so buyers came from other regions main towns to provision in our market especially during the Muslim holidays period. It was really incredible to see dozens of vehicles charged with life stock every Tuesday, Thursday and especially on Saturdays heading towards Bamako capital and other regional towns to be sold at affordable prices".
One of a negative commune effect of all areas in conflict or crisis is the sudden increasing prices of goods of basic necessity. In Koro, the situation is no different, as Mr. Togo confirms. "The crisis has contributed to an excessive rise of the prices of animals in the region. There is a challenge to have found enough livestock in the market. Before the crisis, a cow that we use to buy at $53 is now sold at $71. A sheep that you could have at $44 is now sold at $71 and goat that we could buy for$26 is now sold at $53". 

Mr. Togo also, added that the crisis is disturbing and reducing the traditional cash transactions, because his customers are suspicious of traveling to Koro with cash in hands. As a consequence, most of them stop going to Koro to buy animals.
This is a sad confirmation that Central Mali crisis has weakened the economy of a region where its foundation is based on agriculture and livestock. Only peace can reverse that situation.