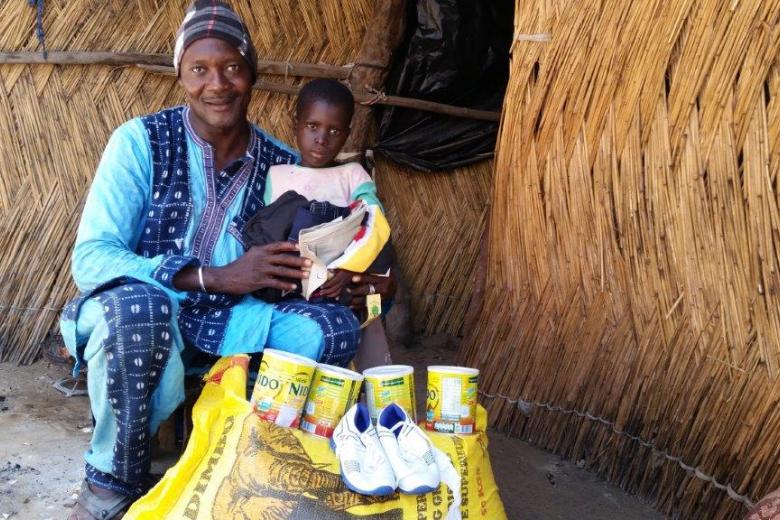 The unexpected savior
Wednesday, October 10, 2018
The security crisis in Mali central and northern regions is causing deep socio-political instability.  As a result, humanitarian needs have been accentuated the in the following sectors: food security, health/nutrition, education, WASH, shelter and protection. Regrettably, terrorist threat in these regions have become more and more common, as well as has an exacerbated intercommunity conflict. The consequences of these events resulted in over 115 incidents reported, including 85 linked to intercommunity conflict causing the deaths of over 200 people in the two regions.
In addition, the number of internally displaced persons due to the conflict has increased. These groups of people, have lost crops, access to their land, agricultural assets and their property in general. In some cases, their houses have been burnt as well. In addition, during this year rainy season most of them were not been able to cultivate in the own fields due to reports of people been murdered while doing so.
As the attacks continue, affected families are even more traumatized and continue to show visible signs of fear and uncertainty about their future.  Since April 2018, World Vision child protection program in the conflict area, run trainings with staff and community volunteers to identify and report cases of with children with health problems or affected by trauma due to the conflict. As a result, from May to June 2018, 24 such cases were reported.
Unfortunately, this was the case for Youssouf Tamboura (4) boy from Naye-peulh village 55 kilometers from Koro town (Mopti Region). Due to current inter community clashes, little Youssouf experience last month, one of the most horrific event of his life, where he losses is grandfather in the middle of an attack in his village. During the attack, the boy was with his grandfather,which suddenly gets shot and fells down close to him.
Unaware of the extreme danger present, little Youssouf already orphan of father, scared and disoriented, runs off innocently towards the same people who shot his grandfather.  Has the little soul approaches them, they fall into a heated debate, whether to kill the child or let it go.  After a while, a decision is made to spare little Youssouf life and handed him over to the chief, who had to decide what to do with him. Once the child was handed over to the chief, there were still talks of killing him.  According to his savior, Mamadou Kodio the community volunteer the chief said "How can I keep a little snake?"
"After what the chief said, I knew that I had to do something to save this child. So I took courage to plead the chief to hand me the innocent boy, after a long discussion the chief accepted" says Mamadou Kodio, World Vision sponsorship Community volunteer.  Youssouf Tamboura was saved thanks to the compassion and persistence of Mamadou Kodio who later hand him to the chief of Madougou village and informed World Vision Child protection team what has happen.