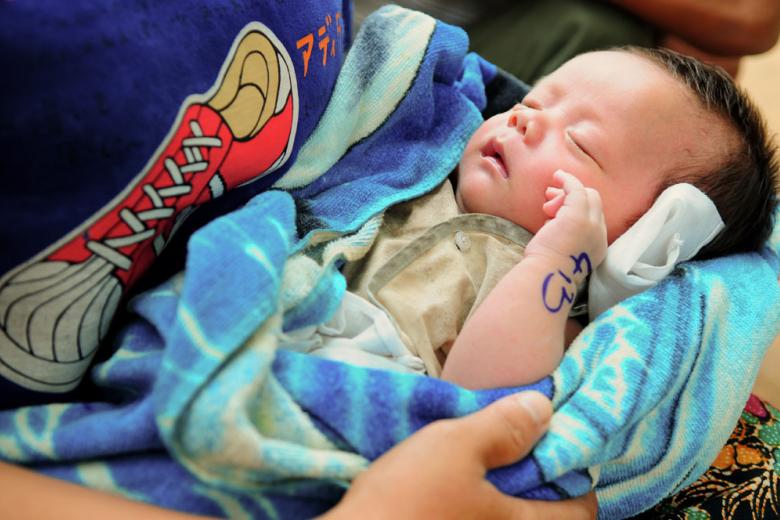 The food issue: Deciding the future of Asia's children
Wednesday, October 15, 2014
I read a post recently that explained there is enough food for everyone on the planet to live a healthy and nutritious life. It seems almost an impossible fact when there are still 842 million people hungry around the world; when 3.1 million of the world's youngest children (under age-five) are dying every year from underlying causes directly connected to not consuming enough food and the right food.
This "food" issue is the cause of hunger but it's also a key player in the issues of obesity and malnutrition which are rampant all over the world, nearly as plaguing in first world countries as they are third. In Asia in particular, more children die every year of malnutrition than in any other region in the world.
This "food" issue is deciding the future of children everywhere whose nutrition in the first 1000 days of life is determining their ability to grow and develop indefinitely.
In observance of World Food Day (16 October), the Child Health Now team joins the One Goal campaign to reflect on how food--enough food and the right food--is essential to tackling issues of hunger and malnutrition, and achieving a world of child health now.
I am one of millions of children in Asia whose future is being decided now… by the foods I consume.
I was born carrying the burden of nutrition. My region has the highest rate of child malnutrition in the world; more children die here of malnutrition than in any other region.
Not consuming foods with the right nutrients more  and vitamins as an infant and toddler will irreversibly damage my future's chances of growing properly, living a healthy life, and raising a healthy family of my own.
Long before my second birthday, my future was already in the hands of my food.
Marjan, who is 25 months old, is malnourished weighing only 6 kilos. In Afghanistan more than half of all children under age five are chronically malnourished. ©World Vision
Turbayar (age 4, boy) was malnourished and often sick at the beginning of his life. His grandmother who looks after him did not know what to do. After learning child care and nutrition, she began to help her grandson regain his health. ©Enkhbayar Purevjav/World Vision
Vorn is 3 years old.He is malnourished because his family lacks the money to buy enough food. Their family struggle to meet many of their most basic needs: food, clean water, sanitation, clothes, education, and medicine. They do not own land, nor the place they live in. Their 'home' is a grain storage unit owned by the farmer they work for, who gave them permission to live in it. ©Jerry Galea/World Vision
At eighteen months, each time baby Rita was hungry she was fed a watery starch from a dirty bowl. Her meals were not only without nutrition but they also lacked hygiene. As a result, she suffers from frequent diarrhoea and marasmus – a gradual wasting-away of the body due to severe malnutrition. ©Alina Shrestha/World Vision
Reliana holds her baby sister. Besides themselves, there are 8 other children in the family. They only eat one meal a day. Reliana is constantly hungry and very tired because of it. She sees that other children in East Timor are always the same--hungry--but she knows that children in other counties like Australia are "full." ©Rohan Zerna & Jacqui Hocking/World Vision
A malnutrition survey in an area in India was conducted to see how many children below the age of five were malnourished. Jyothi was one of the 7% of children who were identified to be severely malnourished. ©Ajitson Samuel Justus/World Vision
In East Timor, Tomasina is not consuming the proper nutrients to fuel her growth and development. Her arm measures in the red zone, indicating severely malnourished, of the malnutrition armband that is used to measure the circumference of an infant's arm. ©Rohan Zerna & Jacqui Hocking/World Vision
In the aftermath of disaster, nutrition is an even higher need for young children whose breastfeeding mothers are stressed or feel they are not able to breastfeed their children. Following Typhoon Haiyan, World Vision's Women and Young Children Spaces (WAYCS) were established to provide mothers with breastfeeding support to ensure malnutrition would not be coming a subsequent effect of the disaster. A mother's breast milk is rich with nutrients for her baby. Breastfeeding provides total food security, with high nutritional value, for baby optimizing a child's physical and mental growth and development. ©Annila Harris/World Vision
Shimanto, 2 years and 10 months, used to be severely underweight for his age. His mother, Lipi, was unaware about child nutrition and nutritious foods to feed her son. She would give him the same food as the other elder members of the family. A porridge program helped to teach Lipi how to care for her son and ensure he consumes the right nutrients. Today he is healthy. "This program brought life back to my child," says Lipi. ©Gloria Das/World Vision
The One Goal campaign is a partnership initiative of World Vision, the Asian Football Confederation, The Global Alliance for Improved Nutrition (GAIN), DSM, and the Asian Football Development Project that seeks to bring awareness to the issue of child malnutrition in Asia and powerfully inspire and mobilise the football community to take action to increase the number of children in Asia who survive and thrive.
Join the movement for nutrition for every child: www.onegoal.asia.