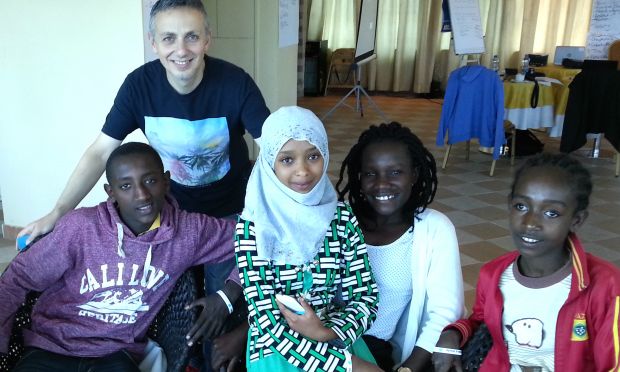 Last month, I was in Addis Ababa supporting seven young leaders from Ethiopia, South Sudan and Uganda who participated in the Pan-African launch of the World Vision campaign to end violence against children.This was my first time in an African country, dealing with different perceptions of childhood and youth, and there are some important things I wanted to share about my experience.
I was amazed to hear their stories and learn about the challenges and problems that children from Africa suffer. Many of these were entirely new to me as the issue of child sacrifice in Uganda and Female Genital Mutilations (FGM) in Ethiopia. These challenges might be different from other countries and cultures, but at the end, they all turn around the same central issue: an extreme violation of children's rights.
I have been working on children and young people's participation for advocacy for almost seven years, and my engagement with them has opened my mind to better understand their views and aspirations, how they embrace their situations and challenges and their dreams for the future. In my professional career, I have met lots of children from many countries and diverse cultures, and each experience has given me the chance to sharpen my knowledge and understandings of the complexities of a child's universe and my work in Ethiopia has only enriched that experience.
My experience has shown me that it is imperative to see that children, wherever they come from, share similar problems, issues and challenges, but at the same time, I have learned that not all the children are the same; they are not a homogeneous group of individuals, they are diverse by nature. Therefore, it is crucial to be mindful of the different cultures and backgrounds, and we, as professionals need to be sensitive to each context and put ourselves in their shoes to understand their worlds and not the other way around. We need to open our minds to learn from them, understand diversity and embrace their abilities to contribute to change.
Accepting this diversity also leads to increase our trust in children's capacities and willingness to make a change in their lives. Children are competent social actors who are capable of talking about their own problems. I personally believe that they are the best ones to understand the issues that affect them, but it could be unfair to assume that are fully equipped to participate in public life. It is our responsibility to provide them with the skills, tools and information needed to engage in social change and influence others. Furthermore, it is essential to change our traditional mind-sets and to value their ideas and give them the space to raise their voices and help them to achieve their goal: the change that they themselves have identified as the most crucial.
The seven young leaders that I met in Addis Ababa taught me once again that children and young people have a strong voice, they can touch people's hearts, they can make a change in their lives, and they can reach one of their greatest dreams: To stop violence against children.
About the author
Mario Stephano is a Child Participation Advisor with World Vision International. His role includes promoting meaningful and rights-based child participation and guiding field staff to conduct child-led initiatives by using peer-to-peer approaches. Mario's primary motivation is to equip children with the skills and tools needed to achieve their optimal development and to exercise their rights guaranteed by the Convention on the Rights of the Child.