World Vision's approach to child protection
World Vision uses a systems approach to strengthen local and national child protection systems in contextually-appropriate ways so that governments, civil society, faith-based actors, community stakeholders and children are empowered, coordinated and working together to create a protective environment that cares for and supports all children, especially the most vulnerable.
World Vision serves as a catalyst, helping to build local capacity, and foster partnerships that enhance child well-being. The organisation leverages lessons learned for national impact through effective advocacy for policy formulation and implementation.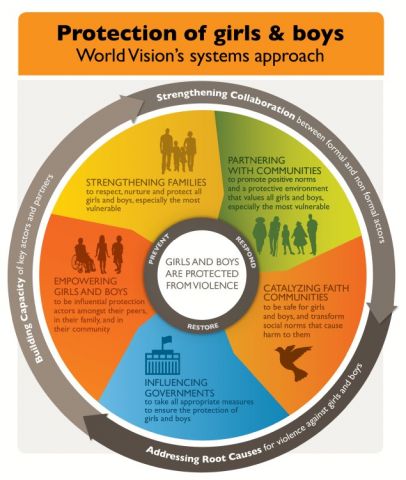 Learn more about how to use this graphic.
World Vison works with all actors in children's lives to address child protection issues across the continuum of care. We do this to help plan interventions that:
Prevent the issues from happening
Respond to issues and protect children when they occur
Help restore children who are affected by such issues to a state of well-being
At the centre, World Vision's Child Protection programming seeks to protect girls and boys from all forms of violence (as defined by United Nation Convention on the Rights of the Child) as a critical contribution to child well-being. World Vision commits to being a safe organisation for children and promotes child safeguarding amongst our partners.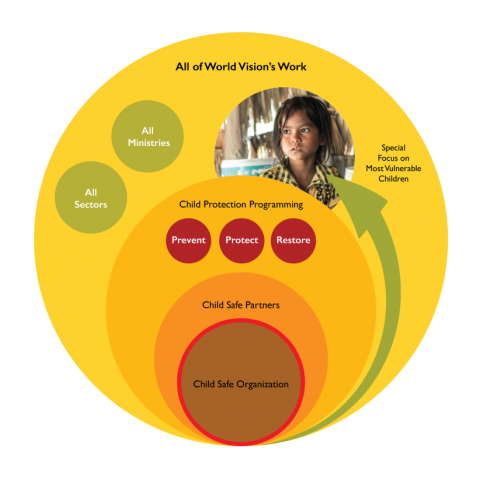 World Vision's definition of Child Protection
All measures taken to prevent and respond to abuse, exploitation, neglect and all other forms of violence against children.
WORLD VISION'S DEFINITION OF THE MOST VULNERABLE CHILDREN
Most vulnerable children are children whose quality of life and ability to fulfill their potential is most affected by extreme deprivation and violations of their rights. These children often live in catastrophic situations and relationships characterised by violence, abuse, neglect, exploitation, exclusion and discrimination.