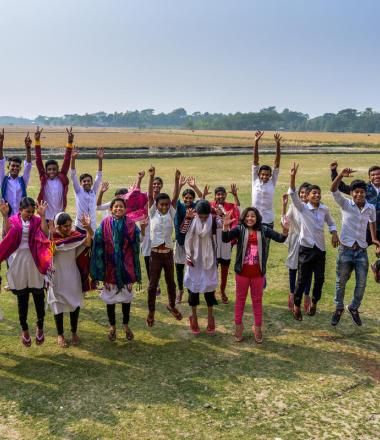 Child Participation
Child participation is one of the core principles of the Convention on the Rights of the Child (CRC), which asserts that children and young people have the right to freely express their views and that there is an obligation to listen to children's views and to facilitate their participation in all matters affecting them within their families, schools, local communities, public services, institutions, government policies and judicial procedures. At World Vision, we consider child and youth's meaningful, safe, and appropriate participation a key strategic priority for ensuring sustained child well-being and creating democratic societies with informed and engaged citizens.
We believe that children and young people can play a significant role as agents of transformation with the capability to engage in decision-making processes, in accordance with their evolving capacities and gradually increasing autonomy. When children and young people learn to communicate opinions, take responsibility and make decisions, they develop a sense of belonging, justice, responsibility and solidarity.
Our work in the field of child and youth participation reflects its International Board endorsement of the Convention on the Rights of the Child. This endorsement implies organizational support to the rights of children to be listened to; to express their opinions on matters that affect them; to freedom of expression, thought, association and access to information; all while respecting the roles and responsibilities of parents and others in authority.
Our teams have made significant advancements in the area of child and youth participation. Internally, we have strengthened the guidance and technical support provided to staff members who work directly with children and increased our commitment to children's participation among board members and senior-level staff.
We are looking forward to the new frontiers of child and youth participation. As our organisation grows in its understanding and practice of participation and representative voice, we have developed a Strategic Direction for Child and Youth Participation to improve our ways of working, define new goals, and overcome new challenges in child and youth participation