Infinite Possibilities
How child sponsorship provided Zhu, 16, the opportunity of a life beyond subsistance farming in China, for the first time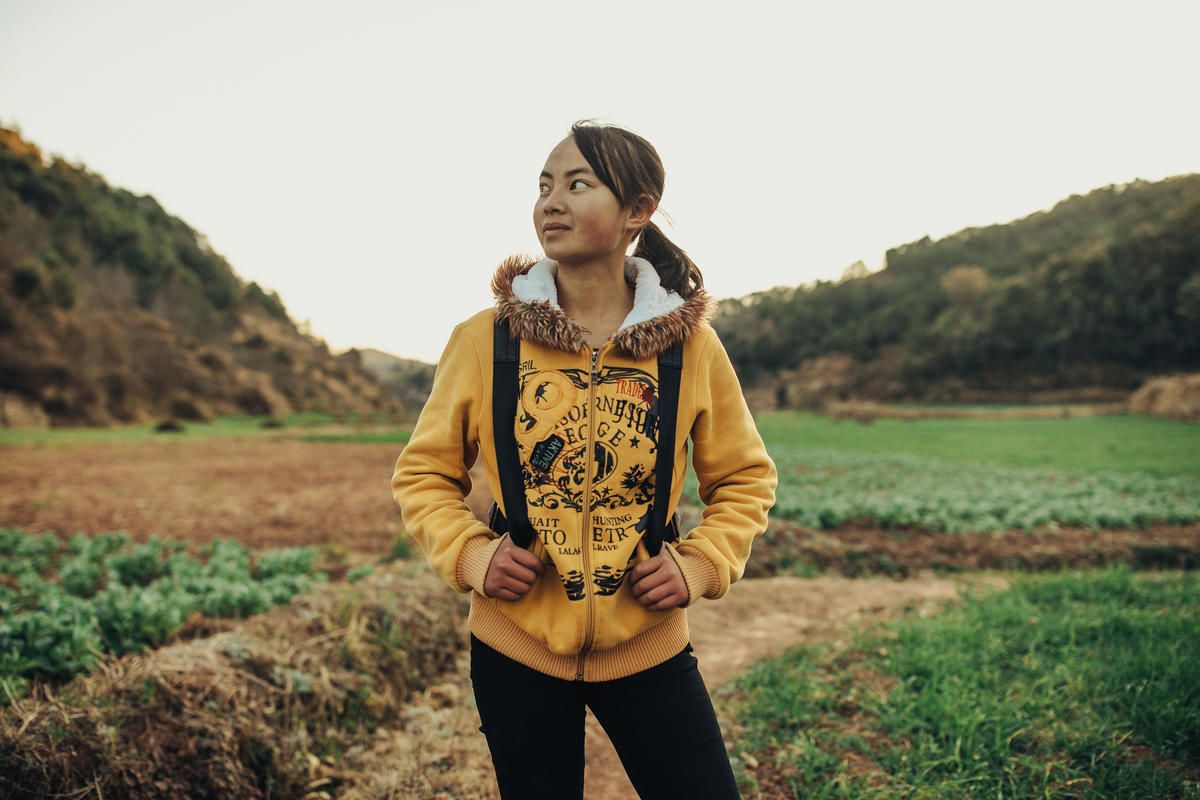 Imagine the thrill of having a birthday cake for the first time. Or dribbling a basketball down a court. Or having books to read whenever you wished.
Imagine having, for the first time, infinite possibilities beyond a life of subsistence farming in a small village high in the mountains.
For 16-year-old Zhu, everything changed when World Vision partnered with her community through child sponsorship. The culture and recreation centre created in her rural Chinese village opened her eyes to a world of new opportunities.
Zhu has never had books at home because she lives in an area where the average daily wage is just USD$4. It was difficult for her parents to afford school fees, let alone buy extra items. Now, she can read whenever she likes, which is one of her most favourite things to do. She has also stopped working in the fields, so she can focus on her education. And, just for fun, she's learning how to play basketball.
In case you are wondering, "The girls play just as well as the boys," she laughs!
"Many villagers never really knew how to raise their children, and nor did I," say's Zhu's father, who believed that if his child wasn't studying, they should be working in the fields.
As great as the range of activities at the culture and recreation are, the sponsorship programme represents a much deeper change in Wuding. According to Zhu's father, adults in his community have always believed that if a child wasn't studying, they should be working. But now parents understand that encouraging children to play can improve or protect their well-being, and by allowing them to study instead of working the fields, it can change their future.
"Many villagers never really knew how to raise their children, and nor did I," say's Zhu's father, who is a farmer like most in his village. "After World Vision came to this village, I attended many workshops where I learned about safety, child protection and parenting. Now, I make friends with my daughter, and our relationship is different from that between most parents and children in my village."
His dream for his daughter? "I just want her to be happy. As long as she is happy, I am happy."
As for Zhu? "I want to go out and see the bigger world."
And so twice a week, Zhu and a group of friends walk three hours across a mountain pass, through streams and over rocks to go to school, leaving on Monday morning and returning home each Friday afternoon. This trek in rain, heat or snow means the difference between working in the fields like her parents or one day becoming a teacher.
"The first time I walked along this path, I was so scared that I cried almost the entire time," says Zhu.
"So did the other kids who walked with me. I was scared because there was no one around and it was getting dark. I wanted to be home and see my parents... I cried but I didn't stop walking because you would never reach home if you stopped."
Knowing it was the difference between Zhu and her friends going to school or not, making the track safer and more protected from earthquakes or landslides during rain and snow was one of the first improvements World Vision did. Because of Wuding's location on the earthquake zone, drought and flood can exist at the same time.
While the journey to school and is still a long one, Zhu is no longer afraid. She also knows that a life outside the family farm – where she can write the next chapter for herself, her family and her community – starts with her education.
Zhu has just started high school, and she's confident that there will be lots more firsts in her future.
What "first" can you make possible today? It may be the beginning of a new life for someone just like Zhu.
"I want to go out and see the bigger world," says Zhu