Seeds and training curb hunger in the Philippines
See how World Vision's child sponsorship programme helped vulnerable families receive the tools and training the needed to meet the nutritional needs of their families, even during the global pandemic.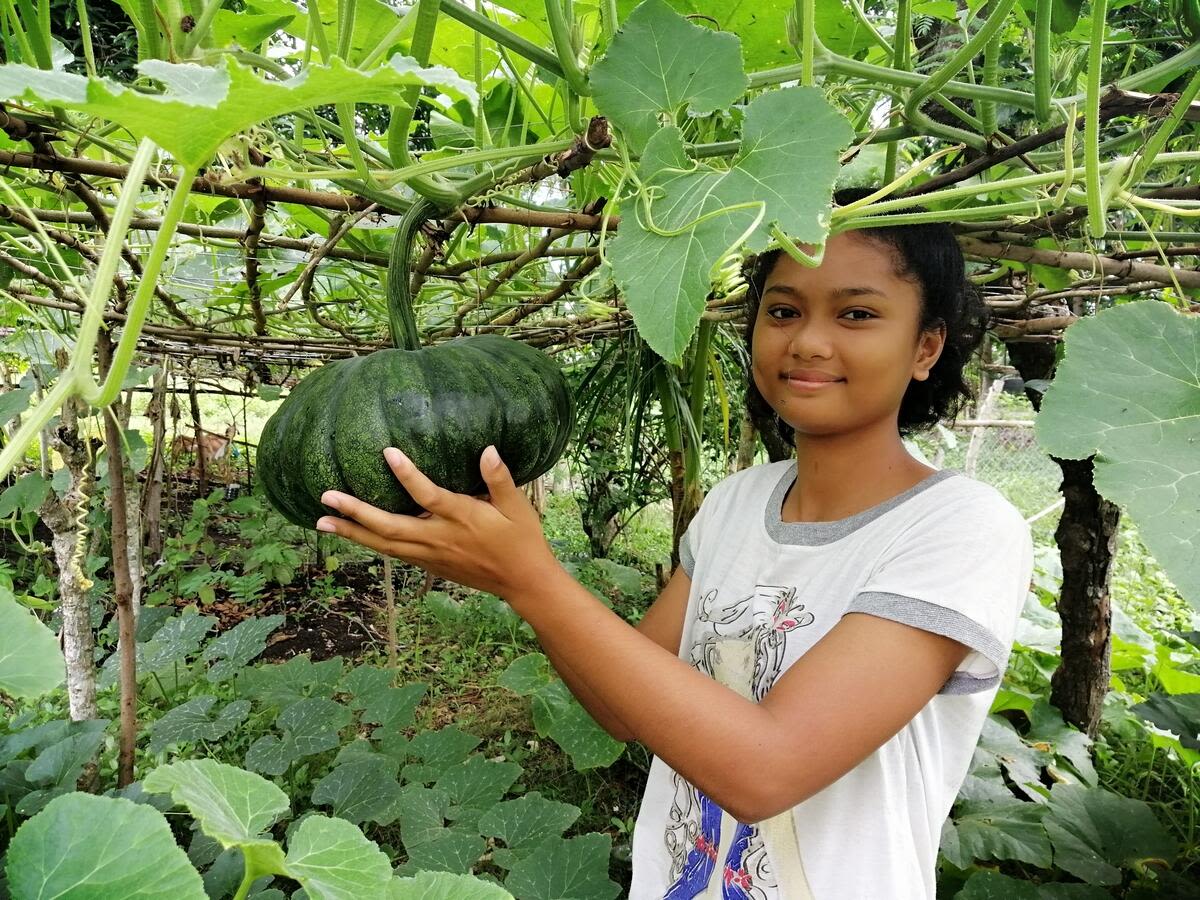 Imagine if, for the first time, you didn't have to worry about having enough food to eat – but instead had so much you could share with neighbours or sell your extra food to buy essential household items.
What if you were the person to make it possible? 
This year, for the first time,  14-year-old Karie and her mum didn't have to worry about where their next meal would come from or risk falling sick from a poor diet – they just had to walk out of the front door and into their very own, flourishing vegetable garden.
Even before the COVID-19 pandemic, putting food on the table wasn't always easy for Karie's single mum. But during recent months, it would have been almost impossible if it wasn't for her sponsor and World Vision's child sponsorship programme in her community.
The Philippines has implemented some of the strictest measures in the world to contain the spread of the coronavirus, and the tightly-enforced community quarantines disrupted the livelihoods of most vulnerable families like Karie's overnight. Many families struggled to provide for their children's most basic needs, including food.
With options running out, their future seemed incredibly grim.
But through child sponsorship, Karie's family and 300 others received a home gardening kit so they could begin to grow their own food and have a large supply of fresh vegetables during the pandemic – and long after it.
Each family received a range of different vegetable varieties as well as a large supply of rice to meet their immediate food needs while the vegetables grew.
For the first time, Karie and her mother could see a way through. They had a practical solution, and  they also had hope and support for a stronger future together. Their first vegetable garden would become their last day of hunger.
"I helped plant the seedlings," said  Karie. "I am in charge of watering the plants every day. It is important to eat vegetables because it helps keep our body healthy," she says sagely.
Earlier in the year, World Vision ran training sessions on natural farming using compost and other household resources as a long-term strategy to combat food insecurity in the area, meaning Karie's family and those around her were already equipped with knowledge and skills for an improved crop.
As a result, families can grow their gardens without having to rely on expensive fertilisers, which they couldn't afford before the COVID-19 pandemic, and certainly cannot in the midst it.
A few months on, their crops are extensive and thriving!
"Not only do these families have food on their table now, they also have spare produce that they are able to sell for additional income," says Rey Angelo Dahonan, a Programme Officer at World Vision Philippines.
"We're happy to see that our initiatives, like training community members on natural farming before COVID-19, are being maximised during this pandemic."
With nutritious food on their table and income being generated for the family, Karie and her mum have less stress and more stability to face whatever else comes their way. It also means Karie has energy to focus on her remote schoolwork and to help her mum around the house.
Karie's first day not worrying about having food to eat is her first step towards a future full of opportunity. Imagine the world of firsts you could create today in the life of a child like Karie.