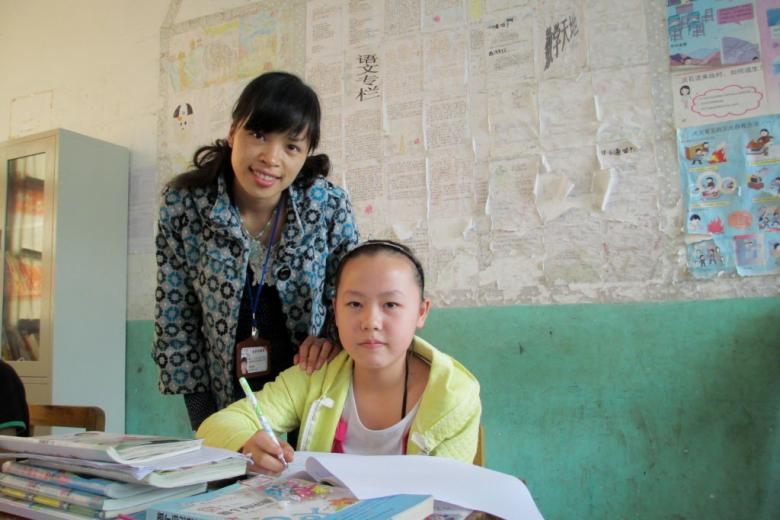 Living happier than ever
Monday, January 7, 2013
"I love my school, my teachers and my classmates. I especially love the cultural activities held at school. I have learnt a lot in there," smiles Lindou, an 11-year-old girl living in a Chinese village. 

Lindou's friends would all describe her as "talkative" and "optimistic". This is true. The little girl laughs a lot and does not look shy. Yet she was not like that before. 

"She was introverted and shy. She didn't know how to communicate with others so she had no playmates. I know she felt isolated and repressed.," ger class teacher recollects of her past impression on Lindou.

Lindou studies in Grade 5 in Mashan County of Guangxi Province. Her father died when she was small and her mother has to work downtown to earn a living. She was then left Lindou with her grandfather but he was not able to take good care of her because of hearing problems. Lindou then moved and lived with her uncle.

With no one to play with her at home, Lindou felt bored at school too. School life in rural villages is not like city schools. Students seldom have any after school activities but only go home and do coursework and housework. World Vision understands that proper extra-curricular activities are important to children's mental and physical health, so it collaborates with schools to organise cultural activities that merge local culture to education.

The school where Lindou is studying at is one of World Vision's partners. Various activities like a sports day, New Year performance and Children's Day games are held to enrich the students' school life. Family activities are also held to strengthen family relationship. Students can participate in the activities according to their interests.

Lindou was not willing to join any of the activities at the beginning. She was not used to them b ut her teachers and classmates were very positive and encouraged her to go join them in the activities. Slowly, the shy girl changed. 

She was excited by the chance to perform in New Year's show and enjoys family activities very much. To prepare for the New Year show, she joined the performance team and practised a lot to prepare for three programmes including her most outstanding talent of singing. Finally, all the programmes got a lot of appreciation and her efforts were recognised by classmates and teachers. Since then, her relationship with teachers and classmates unexpectedly changed.

"Classmates like talking to me and I feel happy about having somebody talk to me," Lindou says. Lindou herself may not have recognised she was actually the one who changed. The performance and appreciation has helped her build her confidence and become more outgoing and cheerful. 

Her class teacher mentions Lindou's obvious changes. "After participation in several cultural activities, she became active and confident. She has been selected and assigned as the class leader, responsible for all performances of the ilk. I remember she once shared that the various cultural activities can enrich students' school lives and help build confidence. She is now my good assistant as she can balance her studies and class activities."

The teacher thinks that Lindou would not have changed that much without the cultural activities. "I think the activities created a platform for her to develop her potential."

Now Lindou does not feel bored at school anymore. She likes reading and has learnt much new knowledge. She can play with her classmates, even with World Vision staff sometimes. She enjoys herself everyday at school. "Sometimes I feel staying at school is better than going home," she says. "Here I have friends, and have so many things to be involved in. I find joy. Thanks World Vision for bringing us so many activities."

Lindou has a positive attitude towards her future now. 

"I will study hard as I am wishing for the chance to enter university and then to improve my family's living condition. More importantly, I want to equip myself so that I will be able to support the needy people when I grow up," Lindou says loudly in class, with a bright smile on her face.