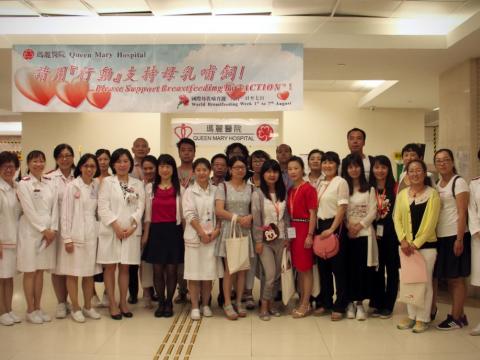 The power of breastfeeding supporters – Exchange in policy implementation in China and Hong Kong
Friday, August 5, 2016
As advocated by the World Alliance for Breastfeeding Action (WABA), World Breastfeeding Week is an annual celebration held from 1 to 7 August. Even though the widely discussed mother-and-baby breastfeeding rooms in public area has brought the topic of breastfeeding into the view of the public and leading to extensive discussion in the society in recent years, has the importance of breastfeeding being recognized by everyone? What is the "First 1000 Days"? Except the mothers, who else can help to promote breastfeeding practice? In many of the rural area in China, insufficient breastfeeding knowledge and a lot of misconceptions are still the main cause for many children to lose the opportunity to build up good foundation of health at the beginning of their lives. What can we do to help them?
During July 6 to 8, partners of World Vision China on maternal child health and nutrition visited Hong Kong for an exchange and learning visit. They went to the Hong Kong Department of Health and government hospitals to exchange experiences on breastfeeding and child nutrition work. They discussed and shared the progress of work. This has laid down a good foundation to further enhance the work of improving child health and nutrition in poor areas of China.
The delegation was comprised of 16 representatives from the Chinese Center for Disease Control and Prevention (CDC) system, County Health and Family Planning Commission and County Maternal and Child Health Hospital of Pingquan County (Hebei Province), Shicheng County (Jiangxi Province) and Long County (Shaanxi Province) respectively.
The delegation visited organizations such as the Kowloon City Maternal Child Health Center, Baby Friendly Hospital Initiative Hong Kong Association of the UNICEF, Queen Elizabeth Hospital, Queen Mary Hospital and Kwong Wah Hospital. Both the delegation and the host organizations shared the academic progress and work experience in infant and young child feeding and breastfeeding polices and work in mainland China and in Hong Kong.
Mr. Kan, National Director of World Vision China said, "World Vision values greatly partnership. We hope our cooperation and collaboration between each other can maximize the impact of our work." 
Dr. Xu Yiqun, Research Associate of the Maternal and Child Health Center of the Chinese CDC, added, "As for breastfeeding and nutrition improvement, I know World Vision has some good and advance knowledge, communications methods and health education resources. This can potentially be integrated with our Baby Friendly Hospital Initiative policies and training system in order to fully utilize the resources of both parties."
In terms of applying the approach of peer education and support that she learned in this exchange activity, she shared, "…. NGO can consider increasing their support to breastfeeding, as well as through public services and community support to help mothers and their family members in breastfeeding."
Good nutrition can reduce the risks of chronic non-communicable diseases in the later stages of life.
After this exchange visit, the participants will share their learning with their leaders and other maternal and child health and nutrition workers in order to further heighten awareness and increase support to the promotion of breastfeeding. They will also help establish a group of mothers to successfully breastfeed their babies. These mothers will then be encouraged to share their valuable and practical experience with more mothers. At the same time, World Vision will further strengthen cooperation with maternal and child health organizations and the communities, deepen and expand the promotion of breastfeeding at the community level.
"Let every girl and boy have the optimum nutrition and healthy growth" – this has always been the goal that World Vision endeavors and commits to.
To achieve this goal, BREASTFEEDING, a word that is traditionally familiar to everyone can actually impart very significant effect. It is also the most economically, the most environmentally friendly and best rewarding method to the mothers!
The World Health Organization/United Nations Children Fund asserts that the 1000 days from fetal stage to 2 years old of a child is called the 'First 1000 Days'. In this period, the nutritional status of children can influence their short-term and long-term nutrition and health. Good nutrition can reduce the risks of chronic non-communicable diseases in the later stages of life. These relationships had been scientifically supported.
The Chinese government accords great importance to this, and set the goal of at least 50% exclusive breastfeeding in 2020.
The role of mothers is key in carrying out exclusive breastfeeding for their babies in the first six months. However, it is necessary to have the support of different parties in this process in order to prevent mothers from stopping practicing and be influenced by traditional norms and advertisements of milk powder companies.
Apart from family members, health care workers in the hospitals where the mothers have their child births can have direct influence on the mothers. Together, we endeavor to promote exclusive breastfeeding which is a very difficult but meaningful work.
What we shall not ignore is that breastfeeding is also a key to sustainable development. Its feature of low-cost, high quality nutrients, equalizer, etc. can help to equip the society on the way to reaching the goal of realizing poverty reduction, gender equity, achieving food security, good health and wellbeing, etc. For more possible links between each of the Sustainable Development Goals (SDGs) and Breastfeeding, please refer to the website.
Facilitating and Supporting Breastfeeding Policy Implementation at the Community
In order to support and enhance the implementation of breastfeeding policy and reach the women in poor rural areas, it is necessary for them to receive accurate breastfeeding knowledge and learn the skills from their peer supporters timely during their pregnancy and after child birth.
Community health volunteers and village cadres are enthusiastic community partners of World Vision. Together, we play a crucial role of supporters in the community support network as mentioned in the 10th Step of the China Baby-Friendly Hospital Initiative (Breastfeeding) Policy.