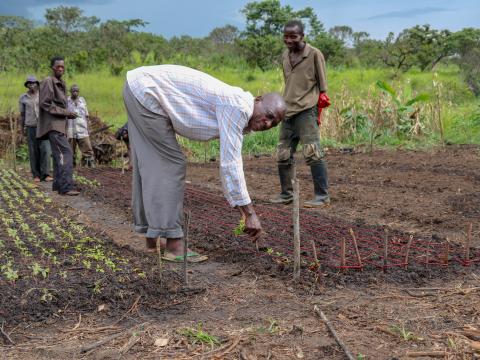 Cultivating hope in Dibaya
Friday, November 23, 2018
As you drive through the hills of Dibaya territory in Kasai Central it's hard to imagine there are people struggling to eat. The earth is green and lush, sprouting a cacophony of leaves, shrubs, and bushes. Houses are interspersed with coffee trees and plots of corn, and every now and then you get a view of peanuts or amaranth budding close to the ground. 
But there's over 3.2 million people living in extreme food insecurity across the Kasais provinces of the Democratic Republic of Congo. The crisis has been caused at least in part by a conflict that began in Dibaya in 2016 between a local chief and government forces. The militia, called the Kamuina Nsapu after the name of the village where it began, quickly spread over an area the size of Belgium, displacing over one million people. As families fled to the bush, fields lay fallow, and although peace has mostly returned to the region, food stability has not. The missed growing seasons due to the conflict have been compounded by a loss of tools and seeds, as well as the low levels of agricultural knowledge already in place before the conflict.
The result is that in villages many families are eating just once a day, and some only every other day, subsisting mostly on cassava and corn. Over 800,000 children are severely malnourished, and on a visit between two hospital nutrition wards, it's a relief to stop in the village of Bitanda Tshendele where World Vision has been working with a farmer's cooperative to try and address some of the root causes of this widespread hunger.
José is one of the members of the farmers' cooperative here, and as she tends to the precious seedlings the group is cultivating, she explains that she and her husband recently joined in the hopes of providing more food for their four children.
"We grow cassava at home, but it's no good, we get no results. The ground just isn't fertile. I want all my kids to go to school and live well. The six-year-old just started classes this year, but he goes barefoot."
José is now on the lookout for a new plot of land, where she plans to plant her share of the seedlings. She's hopeful that by the time four-month-old Rebecca is ready to go to school, she'll be able to send her in a full school uniform.
Véronique is one of the wives of Chief Tshendele, but she too has joined the farmers' cooperative in the hopes that it could, in her words, 'end her suffering.' She and the chief have seven children, but they can only afford to send two of them to school.
"This project will change my income," Veronique says hopefully. "I'll be able to send the other kids to school, and feed them." 
In her small garden at the house, Véronique already grows cassava, beans, peanuts, rice, and corn, but she struggles to feed everyone. She hopes that this project will give her the tools to do better.
The work in Bitanda Tshendele and with the other farmers cooperatives in Dibaya has been financed by the Canadian government, and also includes cash assistance, child protection, and treating already malnourished children. Altogether the project aims to reach almost 15,000 people by March 2019. World Vision's Kasais Emergency Response has been working in Kasai and Kasai Central provinces since July 2017, and has reached over 600,000 people to date.