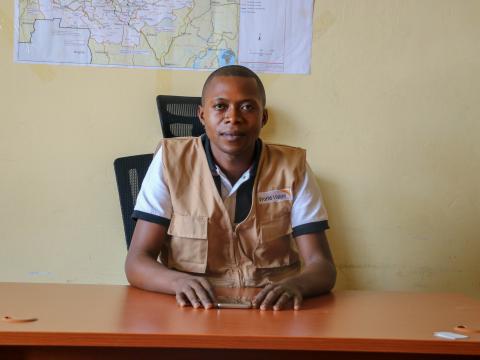 A humanitarian in Kananga shares his story
Saturday, August 18, 2018
David had always dreamed of working for a humanitarian organisation, driven by his passion to help others.  
On World Humanitarian day, he reflects on what it's like to not only survive the heavy fighting that has killed thousands of people in his home region of Kasai Central, but also why he's determined to improve conditions for children. 
When conflict erupted in Kananga in late 2016, I'd watch from my home as people fled the violence. There was a constant flow of children and their families. 
I was working for another humanitarian agency at the time and we had many projects in a town called Tshimbulu, in Dibaya territory. There had been small incidents in 2015, but starting in April the Kamuina Nsapu started building barriers. In June the government stopped negotiating with the militia and we had to halt our projects across Dibaya and just stay in Kananga.
By July soldiers started arriving and it was then that the conflict really started. 
In Kananga, most people thought they would be safe. People were fleeing from other places with their families and coming to stay with relatives in the city. I even had my older sister, her husband and three children, as well as my two brothers-in-law, all crowded in our house as the violence raged. 
After the Kamuina Nsapu was killed, the violence reached Kananga and fighters came and took over the airport. Many people died, including one of my friends who worked there. She was 26 years old when she was killed with a machete to the head.
The fighting made us all scared - even to go to work. I had to go through where the militia was stationed to get to work – sometimes I'd be riding on a motorcycle and hear the bullets coming, so I'd turn around and head straight home.
I was teaching part-time at a school as well, and the students would all freak out whenever they heard bullets outside. They'd run and flinch at the sounds.
When the armed groups went through Nganza on the outskirts of town, many of our beneficiaries were killed. One of the women from my prayer group was killed and her three children as well. They left only one young boy alive so he could tell other people. He was five years old.
It's estimated that up to 60 percent of the militia members were children. People suspected that any child, especially any child wearing red or carrying a stick, was a militia member.

The violence kept persisting. Some of the militia members came and took part in a demobilization ceremony at the stadium in May 2017. We thought it was over then, but the conflict just kept going.
In the midst of it all, I applied to work for World Vision. I wanted to be part of an organisation that supports people in Kasai. Our Christian values, and the fact that I can acknowledge that through my work, also means a lot to me. 
The work that WV has done in the field is something you can see. In many villages, children are malnourished, recovering from the long-term effects of violence and many children still aren't in school. 
When I went to help distribute back to school kits last year, the children didn't have a school. Instead, they sat outside studying under the trees. World Vision provided notebooks, and more than that, the school kits encouraged the children who weren't in school to want to get an education. It has also encouraged parents to try and find a way to send them. These are the stories that make me proud to be a humanitarian. 
David works as an Accountant for World Vision's Kasais Emergency Response and has been with the team since September 2017 when he joined as a cashier.