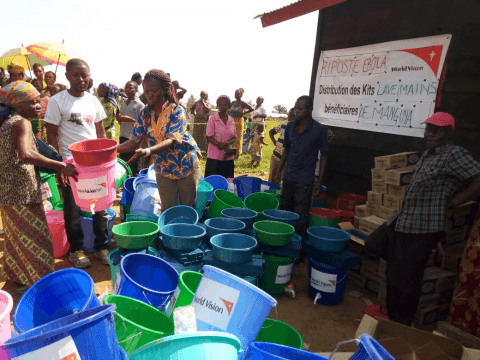 Instability causes worry in fight against Ebola
Tuesday, October 16, 2018
World Vision is concerned over sharp increase in cases as instability in Beni, North Kivu hinders efforts to fight Ebola outbreak.
This is an area that has seen high levels of instability for over two decades, leaving communities weary of conflict and frustrated with external actors. Many feel that they have been let down by authorities and the international community, and don't feel that this time will be any different. 
Over 200 people have now been diagnosed with the virus, and almost 150 have passed away. The number of new cases had been stabilizing until a rebel attack shutdown Beni at the end of September. We are now seeing a spike in cases from Beni as a result. In recent days the number of new cases has been as high as 25 per day, a disproportionate number of whom have been children. Since 1 October, there have been nine new cases of Ebola among babies and children under 5.
"Children and their families have already been suffering the psychological effects of long-term violence, as educations and jobs are sporadically interrupted when families flee new outbreaks of conflict." Zonal Director Helen Hollands explains. "This is a crisis on top of a crisis and we need to act urgently to stop the spread of this outbreak any further."
World Vision has been working with communities since the beginning of August to improve awareness, prevention, and understanding of the disease, reaching almost a quarter of a million people to date. We're working with church leaders, community health workers, and teachers, building on expertise from our work during the Ebola outbreak in Sierra Leone in 2014-2015. As the outbreak worsens in Beni, we have been stepping up our efforts there, providing sanitizing spray for 40 checkpoints around the city, and distributing thousands of hygiene kits to families, churches, and schools to help stop the spread of the disease. 
Notes:
In response to the WHO meeting 17 October, World Vision continues to respond in the area and is updating the contingency plan in place to prepare for a potential scale-up of activities as a result.
Concerns over the spread of EVD across borders into Uganda and Rwanda have resulted in increased checks at borders and entry points to affected urban centres, however no confirmed cases have crossed an international border to date.
Ebola is endemic to the DRC, and the Ministry of Health has a lot of experience dealing with outbreaks. The virus is now under control in eight out of the 10 health zones, but in Beni and Oicha the security situation is hampering the response and schools have also been shut due to violence.
In addition to security, community acceptance is a major problem. A lack of trust means patients are sometimes avoiding care, leaving health facilities, and refusing safe and dignified burials. The bulk of World Vision's activities are focused on working with faith leaders and community health leaders to increase trust and stop the transmission of the disease.
In Beni over the weekend there was an incident when a family requested the right to bury their relative who had succumbed to the virus. The government agreed to let them, lent personal protective equipment, and provided a police escort. However, community members objected and attacked the police escort who fled the scene. Later the police found the family at the cemetery and said the body did not appear to have been disturbed. The community members also later issued an apology for their actions.