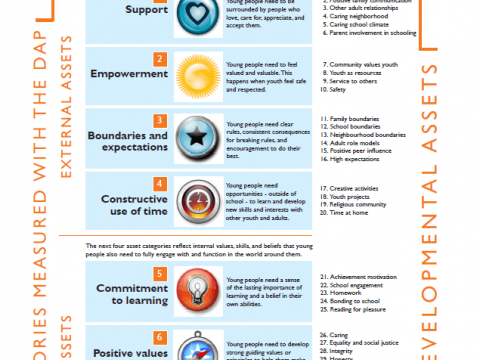 Development Assets Profile (DAP)
Thursday, January 8, 2015
World Vision has selected the Developmental Assets Profile (DAP) as the recommended tool to measure the World Vision child well-being target 'children report an increase in level of wellbeing'.The DAP was selected because it is an effective and cost-efficient DME tool for use with children ages 12-18.
The DAP is a 58-item survey that was created by the Search Institute to measure the presence – and change over time – of the eight categories of developmental assets found within Search's Developmental Assets Framework.  The DAP is a measurement tool that yields quantitative scores for each of the asset categories:  support, empowerment, boundaries and expectations, constructive use of time, commitment to learning, positive values, social competencies, and positive identity.  The DAP can also measure five broad context areas (personal, social, school, community and family).
For more information about how to use the DAP for your context and whether it might already exist in your language, contact Teresa Wallace, Senior Child/Adolescent Development Programming Specialist.