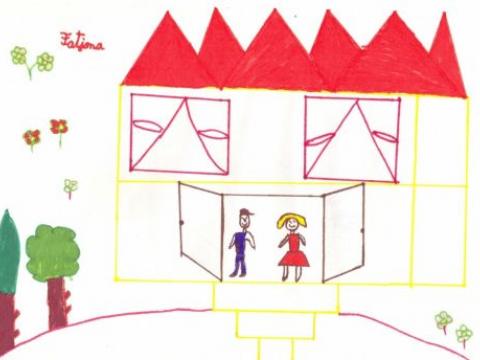 Hopes and dreams of children with disabilities
Wednesday, September 11, 2013
This is a collection of stories from children with disabilities around the globe, sharing their experiences, relationships with others, fears and hurts, hopes and dreams. To download the pdf version, click HERE.   
Albania: I dream of being a dancer: What do you do when your life flips upside down? When you lose the ability to do the things you used to be able to do?  Follow Fatjona on her journey to redefine who she is and her strong will to dream big again! 
Bangladesh: My dream is to be a doctor: Ritu believes that God has a plan for her life. Born with fragile legs, she tells her story of how her parents tried to help her to walk, but speaks with confidence in knowing who she is. Explore how, though circumstances and environment around her do not always accept her, Ritu accepts who she is. 

China: I can realise my dream of becoming a teacher: Growing up in an orphanage, Junjun, a boy with disabilities, balances his physical conditions, educational challenges and environmental limitations and has big dreams for the future. Junjun wants to climb the Great Wall one day! 

Ethiopia: I want to help children like me:  14-year-old Birtukan is in grade 5. She dreams to help children who are outcast because of their disability. 

Ethiopia: I dream of being a medical doctor: "I was longing for the day when I was carrying a bag and going to school". Despite being told that there was no school for children who are deaf, 14-year-old Mubtwuha refused to give up. She is now one of the best students in class.
Georgia: Longing for integration: Pikria speaks with her hands, instead of her lips to communicate. When she was 3 years old she was diagnosed with deafness. 

Ghana: Returning to school with sanitation access: Quitting school, frustrated to search for solutions to his problem, Abudu shares his story of gaining access to the use of latrines. "Imagine a person with disability, crawling on the ground into the bushes..."
India: Through education I will achieve my goal: Rohit is a bright individual who represents the voices of children with special needs and has also submitted the children's manifestor (demands of the children with special needs) to the Mayor of Faridabad. "They call me 'bones' and 'shrivelled'." Rohit shares his story as a child with a disability in India.
Malawi: I can become successful in life: Despite the challenges of having no arms, negative attitude by others, and inaccessible environment, 16-year-old Greford from a remote village passed the very tough exam in the nation to be accepted into publilc secondary school. He is determined to move forward and succeed in life.
Mongolia: A dream of becoming a singer: Passionate about music, 14-year-old Shirchinbaatar is an ordinary kid living in a low-income part of town. There is more to Shirchinbaatar than meets the eye. 
Mozambique: I want to become a teacher: How do you win against the odds? Watarito says "My reality frustrates me. I have no dreams for the future..." 
Mozambique: I want to help other children: Paulito! Paulito! His charismatic and friendly character makes Paulito a celebrity in his town. Although Paulito was born just like any other child,  He does not remember ever seeing anything in his life.
Myanmar: To be a teacher, to share what I've learned: Su Su represents one of many children with disabilities who never recieved the love of a father, mother, or acceptance from community. Read about who she is and her first time in school.
Uganda: I want to study and write a book: 9-year-old Herbert is more than eager to join school. What is keeping him from going? Read about the barriers to school.
Vietnam: I want to care for my parents: "When I was born, my appearance shocked all my family. . . .kids still cry when they see me and even adults even run away when they see my face. . . .The first time I ever felt important was  . . .when a boy ran over and asked: 'What's your name?' and "'How old are you?' . . . It was the first time someone had ever done that."