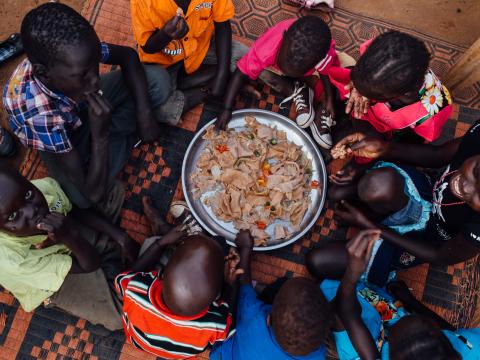 Improving more than diet diversity for Internally Displaced People in South Sudan
Tuesday, June 21, 2016
When conflict broke out in parts of South Sudan in December 2013, many people fled their homes and went to Protection of Civilian (PoC) sites set up by the United Nations Mission in South Sudan.
World Vision, in partnership with the World Food Programme (WFP) began providing food assistance, and has since assisted more than 20,500 IDPs at the Juba PoC.
Initially, the food assistance provided was in-kind food rations, consisting of cereals, pulses (legumes), vegetable oil and salt. However, there were reports that beneficiaries were selling part of their rations to buy diverse foods such as meat, fish, milk, sugar, fruits and vegetables. Though the rations provided the daily required calories,  they lacked diversity and did not always support a balanced diet.  
"While I was grateful for the food that my family was receiving, I also needed other types of food such as milk and vegetables, especially for the children, yet I could not afford them and this was affecting the health of my children," says Veronica, a young mother living in Juba PoC.
To meet these needs, World Vision and WFP looked to cash vouchers that partnered with markets to supply the IDPs with more diversified food assistance. It was agreed that rice, milk, cereals, vegetables, beans, sugar, bread and oil would be available for purchase. Vouchers were then introduced in March 2015.
A recent case study by World Vision South Sudan indicates that the introduction of the cash vouchers drastically helped in improving the nutrition status of children.
In addition, the voucher programme injects about 1,915,000 SSP (US$ 102,957) into the local economy each month. World Vision is now partnering with 184 traders in the PoC, with some employing two to four workers, to support the programme. Traders are also boosting staff numbers on days the vouchers are being redeemed.
Although cash voucher projects had existed in South Sudan since 2013, the project in Juba PoC was the first used as emergency response in South Sudan. This successful model is now being used elsewhere as a way to provide holistic and empowering food assistance.
LEARN MORE