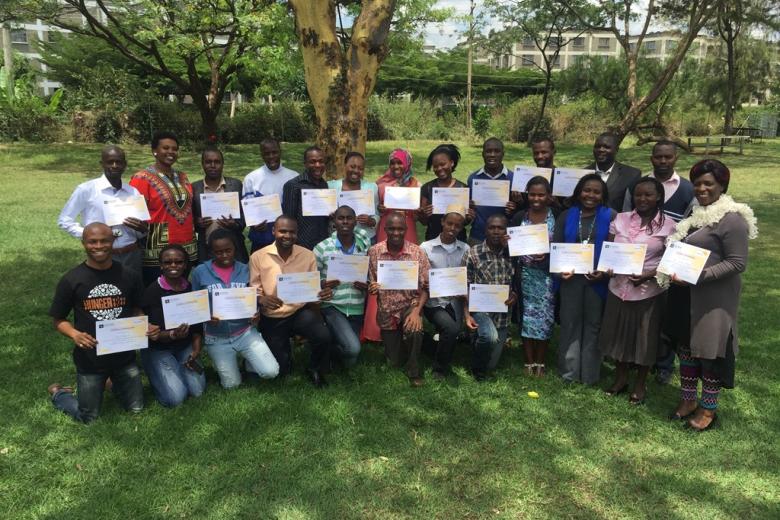 The bridge between humanitarian and development work has been built, are we ready to cross it?
Monday, July 18, 2016
I had the privilege of being the vice-rapporteur (i.e. assistant reporter) for the 600 person UNHCR annual partners' consultation in June 2016.  The event featured the voices of 30 youth (ages 18-25), all of whom came from a background of forced displacement themselves or from a refugee hosting community.  These delegates now run their own NGOs or initiatives to meet needs in forcibly-displaced communities.
One speaker who caught my attention was Maria Alessi, a host-community Ugandan activist on refugee integration.  In a global webinar to World Vision staff she challenged, 'Africa has a protracted refugee situation where you find someone has been a refugee for 15 years, 20 years.  It stops being emergency response at the points and it is more like development ideally.'
'Ideally' is the key word here, as I know first-hand how hard it can be to integrate the rapid, standards-led approaches humanitarian programmes and slower, participative techniques of development.  However, having once been a case-worker, blending humanitarian and development resources to help youth refugees enter the British education system, I've seen what Maria sees: the amazing synergy when these systems work in harmony.
Through the World Humanitarian Summit and other forums in 2016 there has been real momentum to strengthen the 'Humanitarian-Development Nexus,' (i.e. creating a framework where humanitarian and development approaches can be blended together to best meet community needs).  I'm encouraged that these dialogues have moved beyond 'this is what the humanitarians do, and this is what development organisations do,' and are working to tackle some of the root causes that make blended programming so challenging[1].
The high level work on the nexus is critical, but the day-to-day realities of a new business model will be defined on the ground.  World Vision International (WVI) are helping set the stage for a new way of working.  Here are two examples from East Africa that shows the bridge is already built to connect development and humanitarian work, we just have to be willing to cross it. 
Youth Ready a project model developed by WVI that prepares out-of-school and unemployed youth through second change literacy learning, life skills training and livelihood preparation and support.  Pilot tested in Rwanda, this approach is now being contextualized across rural, urban, peri-urban and refugee settings in Kenya. (https://www.hungerfree.org/empowering-young-people/)
East Africa Humanitarian and Private Sector Partnerships Platform, where WVI, some of our NGO peers, UN agencies and a variety of companies work together to co-create market-linked forms of humanitarian assistance.  Platform chair, Equity Bank, works on financial instruments to grow the businesses of refugee entrepreneurs.  Equity was part of the WVI delegation at the UNHCR meeting and was one of the first businesses to participate in this forum.
Maria and her peers reminded me in very tangible ways what the future can look like if we get the humanitarian/development nexus right.  I look forward to the day when projects like Youth Ready and the Humanitarian Public Private Partnership are taken to scale.  And I hope for the day when blended programming isn't an ideal, but the status quo.
[1] Igoe, Michael, 'The UNDP's take on the humanitarian-development nexus and #WHS16" 6 May 2016. https://www.devex.com/news/the-undp-s-take-on-the-humanitarian-development-nexus-and-whs16-88131