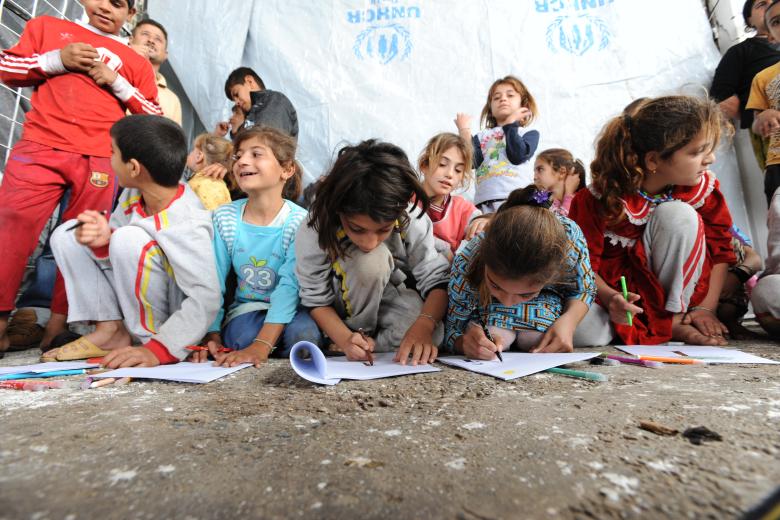 From the WHS to the General Assembly, what is changing for education in emergencies?
Monday, August 1, 2016
Now that the first-ever World Humanitarian Summit (WHS) has come and gone, we can take a moment to reflect on what really just occurred. In some quarters expectations for this event had been huge, while others anticipated just another forum giving lip service rather than tackling important issues. Three months on from the London Conference, Supporting Syria and the Region, where USD 11 billion was pledged, the world hadn't seen much change for those affected by the conflict in Syria. With this background in mind, I had high hopes, but limited expectations for the summit.
After months of consultation and planning, May 23-24 brought together world leaders, UN delegates, civil society, private sector actors, and other advocates in Istanbul to discuss how to strengthen the humanitarian sector to best serve those who are facing emergencies - both disasters and conflicts.
What was different at the WHS?
1. The Education Cannot Wait Fund was launched
The fund seeks to provide access to education to 75 million children by 2030. $90 million was pledged with considerable donations from Dubai Cares, the European Union, Netherlands, Norway, United Kingdom, and the United States, achieving over half of the funds requirements for the first year. The fund is aiming to secure $3.85 billion over five years.
The Education Cannot Wait Fund is expected to help support education for children and youth affected by humanitarian emergencies and protracted crises. Donors, the private sector and development organizations pledged financial and technical support to Education Cannot Wait. Former Australian Prime Minister Julia Gillard, on behalf of the Global Partnership for Education (GPE), stated that the fund will help "responding to [the] educational crisis…be better coordinated and…capacity to act will be improved" (GPE).  The Education Cannot Wait fund should be a critical step to ensuring that education is prioritized during and after a conflict or disaster, as well as considered in preparedness plans for disaster management. We need to ensure that we are sensitizing governments and supporting them in disaster preparedness. If systems are strengthened before the disaster occurs, they will be more likely to survive it.
2. The need for a new approach was acknowledged
Considering 75 million school-aged children are directly affected by crises, we must try new ideas and approaches to education in emergencies, we can't afford to continue as we have been. These children and youth definitely cannot afford to lose out on education any longer. Not only is education clearly their right, but it is also the best way to rebuild stable and productive societies. At the World Humanitarian Summit, there seemed to be a common acknowledgement of the need for a new approach to address the needs of our most vulnerable, including IDPs and refugees. However, what that new approach needs to look like was not clear.
3. Education was recognised a fundamental need for those affected by conflict and disasters
Affected children and their parents continue to cite education as their top priority (along with protection); however, it is most often not addressed in emergencies, especially in the immediate stages. Less than 2% of humanitarian aid is spent on education (UNESCO, 2015, p.5), which makes it impossible to meet the needs of the 75 million children affected by emergencies. Thus, as mentioned above - it is important to utilize development spending on contingency plans and disaster preparedness, as well. 
The Summit was a positive endeavor in acknowledging that education is life-saving, and that it must be protected - both physically and as a system of support. After years of discussions and advocacy, this type of resolution (that education is as important as shelter and food) is a major accomplishment. Education cannot afford to be an afterthought - it needs to be prioritized at the onset of any emergency so that children do not miss years of their schooling.
Additionally, other positive takes from the Summit include the recognition that education needs to be protected. A lot can be done to make schools and education safer and more accessible. The Summit also allowed discussions to conclude regarding the need to better meet those with disabilities, and make sure this is included in the design of programs.
What's next?
As someone who has met the children who are relying on the international community to take action, I was pleased with the level of participation and commitments around education in emergencies as well as the attention to other critical issues of innovation, partnering and humanitarian financing. World Vision shared its commitment to reach 20% of children affected by disasters by prioritizing education and child protection.
The issue now is in the actions and outcomes from these discussions. There must be accountability for the promises made. A clear plan or roadmap with specific action points, targets, timelines and success indicators as well as a framework for accountability are crucial.
It remains to be seen whether there is global political will for these critical next steps. The World Humanitarian Summit gave world leaders the opportunity to discuss global humanitarian affairs. Central to these discussions must be the issue of how to end the conflicts that are displacing record numbers of people. However, the number of heads of governments who were missing from the summit is worrying. Many of the leaders of the UN Security Council's permanent members did not attend, and the only G7 leader present was German Chancellor Angela Merkel.
Their absence should not excuse them from having to address the issues that arose at the Summit, or that were intended to be addressed by all leaders at the Summit. They have a unique responsibility to pursue peace and protect the most vulnerable.  UN Secretary-General Ban Ki-moon who convened the event, specifically addressed the five permanent members of the UN Security Council to act. If enough political will does not exist to end these conflicts, it is not clear how anything will change - even with the discussions that took place at the WHS.
Manuel Bessler, head of the Swiss government's humanitarian aid unit noted that most of the commitments came from those who are already on board.  "We need commitments of those who are not, or not yet, or have to be convinced," he said (IRIN news).  
Ultimately, what happens next will make all the difference. The conversations have been had - yet again - and commitments were made. But what do we do now? What can we expect now? The UN General Assembly and Obama's summit in September go some way to providing these answers. Until then, we will not know the Secretary-General's recommendations to the UNGA. In the lead up we must continue advocating for that accountability and roadmap otherwise the Summit and the Education Cannot Wait Fund, are just business-as-usual.
I am hopeful that the momentum from the Summit can be translated into action that can help improve the lives of children, especially those out-of-school and most vulnerable.
 Learn more