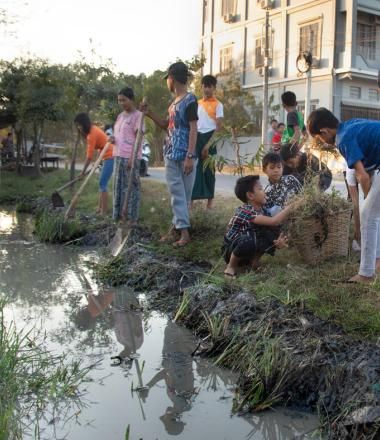 Disaster Risk Reduction: Guardians of the Planet
According to the "Guardians of the Planet", Asia-Pacific children and youths consultation report, released by five leading international aid agencies, including World Vision International, in Asia-Pacific 77% of children and youth have noticed more climate-related disasters locally in the last two years. 23% of children reported experiencing extreme temperatures, while 30% experienced floods or more severe rainfall.
Children and youth, in Asia-Pacific, are calling on their leaders to step up actions to tackle the climate crisis, including the strengthening of policies and plans to mitigate disaster risks and promote resilience.
While the role of the government is prominent in building resilient communities, children believe, an individual's role to protect the environment and promote sustainable green solutions are equally important.
This International Day for Disaster Risk Reduction, sharing examples of how children and youths already making a difference in their communities by raising awareness about climate, in Asia-Pacific.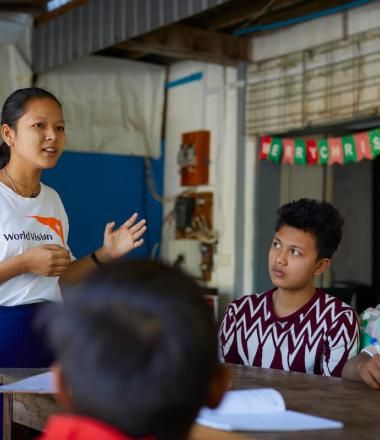 Myanmar
16-year-old Cherry, from Pyigyitaung Area Programme and Min, 11 years old boy from Amarapura Area Programme, are sponsored children, and also youth club members, in Mandalay Region, Myanmar.
At the children and youth consultation workshop, they had learned about natural disasters and the causes of frequent disasters. They realised that the occurrence of natural disasters in their communities had increased and planned to spread more awareness on the climate crisis, plant trees, clean the environment like garbage collection.
Pyigyitagun Township in Mandalay was severely affected by floods and Cherry is worried about it happening again.
"Our youth group will clean the canals which are filled with rubbish and educate people about organised waste disposal system which is more systematic. It can be done on a weekly or monthly basis. The government can also do a talk show, drama shows focused on the environment and distribute IEC in the community," says Cherry.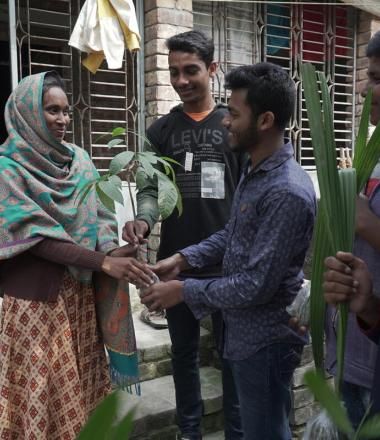 Bangladesh
17-year-old Abul Hossain was born in a village of the Assasuni sub-district who lost everything during the cyclone 'Sidr' in 2007.  Their crops and fish ponds were washed away. His parents lost almost everything; it took a long time for him to recover from the loss. Assasuni is one of the sub-districts in the Satkhira district which lies in the coastal belt of Bangladesh.
When Abul Hossain was studying in high school he came to know about the activities of child forum initiated by World Vision.
Abul now works on child rights, social welfare and disaster risk reduction issues, in his community. In 2019, two tropical cyclones hit this area, in May "Fani" and in November "Bulbul". Abul Hossain, the President of Assasuni Child Forum mobilised the child forum members to get involved with community volunteers to prepare the community to mitigate the disaster impact and help them to evacuate to the cyclone shelter.
Assasuni along with other child forum members participated in the Child and Youth Consultation on Climate Change.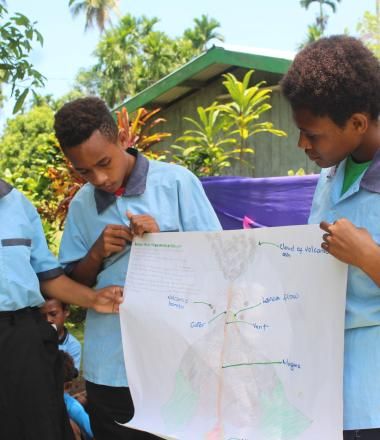 Papua New Guinea
16-year-Lucy is part of her school's Disaster Risk Reduction Club with other schoolmates. With the support of World Vision project staff, the club goes around their community to create awareness on the importance of being prepared for any type of disaster. Her community lives by the sea and is located in a disaster probe Province in Papua New Guinea.
"One thing that we have learned through this project is that in the event of an earthquake we must drop down, crawl under a sturdy desk or table and cover our head and wait if we are in the classroom. We also learned about the signs of a  tsunami. It is important because we live near the sea and our school is also located about a hundred meters from the beach. For a tsunami to be created, the epicentre of the earthquake has to be in the sea. The signs of a tsunami will be an unusual withdrawal of seawater into the deep ocean after an earthquake. When we see this sign, we have to warn members of our community and we all have to run towards the nearest high ground for safety and wait there until we receive an official announcement from authorities that it is safe to return to our communities," says Lucy.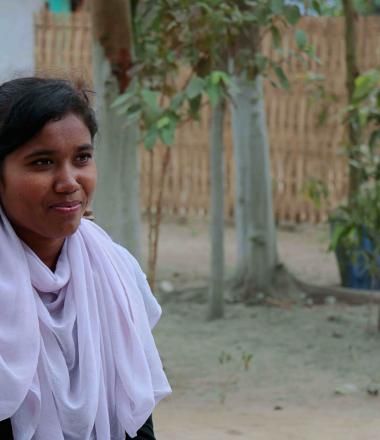 Nepal
17-year Rajo's village is prone to flooding. The river flows close to their settlement and every monsoon the water level rises, flooding the village. The village experienced severe flooding displacing approximately 400 people (more than 100 children) in Rajo's locality alone. A large number of women and children fell sick due to airborne diseases triggered by hundreds of dead livestock.
"We could not escape the place because the flooding occurred at midnight. Almost everyone fell sick while the whole village was submerged. Our books and reading materials were drenched and we could not go to schools because the roads were covered in mud," recalls Rajo.
Eager to contribute to her community's well-being she is now a Peer Educator in one of the Rupantaran (transformation) clubs formed by World Vision in Morang district. She educates her peer group about issues they generally do not get to learn at their schools and homes. In recent months, Rajo has also discussed natural disasters including flooding with her peer group. They have identified safe areas, initiated public awareness campaigns on do's and don'ts in the event of a crisis, and advocated their local government for recovery programs in the flood-affected areas. 
Philippines
17-year-old Rhea is an earthquake survivor. In late 2013, when a 7.2-magnitude earthquake struck Bohol, Rhea's daily life was among the many that got disrupted. She was not able to go to school for a few months because of the damage the earthquake left in her school. "It was a very unfortunate event for us because lots of buildings, schools, hospitals and even iconic churches collapsed. A lot of people were hurt, many lost their homes and several people died," says 17-year-old Rhea.
Now a youth leader in her community, Rhea also planned to share her learnings from the two-day consultation with her school, youth groups and other members of the community. "I will not keep all the learnings I have gained to myself. I will share my learnings and knowledge on DRR and climate change with my school, so we can build a resilient community together. We can build the capacity of the community and children on how to reduce the impact of the disaster."