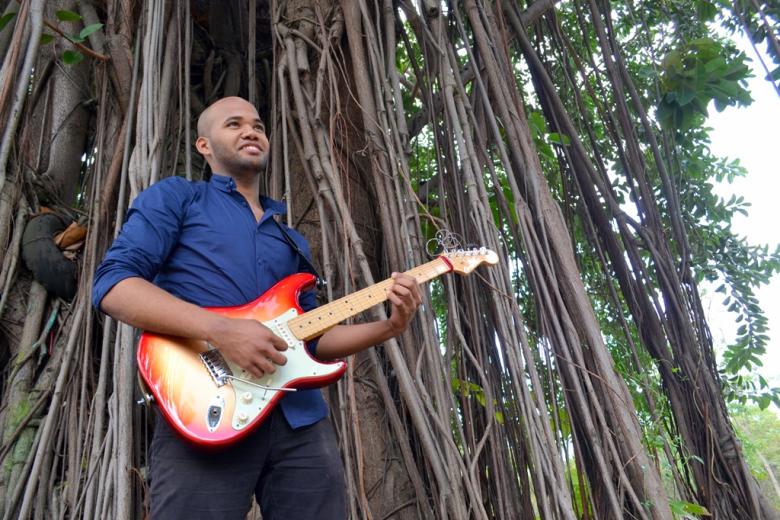 Misrain Rubio Cruz: "Escolarte is an opportunity for Sabana Perdida"
Tuesday, August 11, 2015
Misrain Rubio Cruz, 23, has a clear vocation in life. "There is nothing I want to do that is not related to music. He graduated as a guitarist from the National Conservatory of Music in the Dominican Republic. He also majored in Music Theory and Education at the Autonomous University of Santo Domingo (UASD), and now he is packing for a dream trip that will take him to the Berklee Collegue of Music in Boston, United States. In Berklee, he will participate in a summer guitar training course after winning a scholarship granted by this centre of higher education and the Dominican Ministry of Culture.
Misrain lives in the Sabana Perdida sector, located in the North Santo Domingo municipality, which many perceive as "marginalized" from where "nothing good can come out".
However, there is an art school in this town supported by World Vision. "Escolarte" is a learning facility that opened its doors in 2004. To this date, more than 4,500 children and adolescents have taken piano, guitar, violin, percussion, theatre, folk dance, and painting lessons, among other disciplines.
His awakening in music had its origin in Escolarte when Misrain was 15. "My mom told me about a school run by World Vision called Escolarte; it was close to home so I went there and enrolled. I started taking lessons with Ruben Roberto, whom we call "Tito", and there began my relationship with the guitar. In a way, Escolarte was where I grew up and develop because, for example, there I began to study guitar and it was there where I played with my first band. I had never played anywhere before. My first concert came thanks to it at the Museum of the Dominican Man."
Misrain currently teaches guitar lessons in Escolarte, almost as a volunteer. A total of 25 children attend on Wednesdays and Saturdays, from 2:30 to 5:30 pm. He always seeks to join music projects, things that keep him busy, always having something to do.
"I was in 11th grade when I decided to choose music as a career for life. It is my vocation. Music is a way of expression for me. When I play guitar is like something you are passionate about, something you want to do for your entire life," he says.
He also emphasizes the importance of opening more art schools across the country as a way to overcome crime and create quality of life. "If someone wants to study music, then that person has to go to the centre of the city. A boy or a girl living in this sector (Sabana Perdida) cannot afford that, just like that. I myself wanted to study in a school that is in town, but it was a bit far and my family did not have money to pay for it. But, I had the opportunity to go to Escolarte. There we were taught everything perfectly. I could afford it, unlike elsewhere".
Misrain wants to make his way into national and international stages and he is finding scholarships to study abroad. "I would like to write my own music, especially folk songs. I would like to study music production. That is what I want to study in Berklee and continue my career as a guitarist."