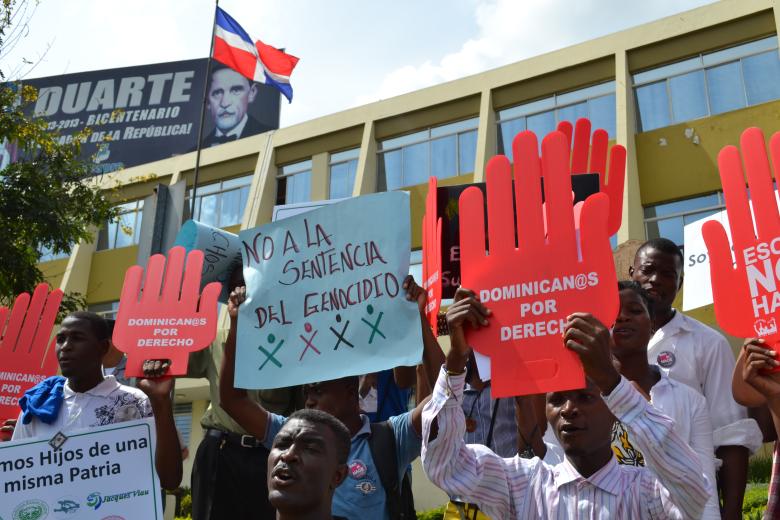 World Vision Position Statement on Denationalization in the Dominican Republic
Thursday, January 10, 2013
World Vision expresses its concern over recent events in the Dominican Republic which are impacting tens of thousands of Dominican citizens, many of them children and youth of Haitian descendents. As a leading Christian child-focused development agency working in nearly 100 countries, including the Dominican Republic, we urge the international community to support the Dominican government in restoring full citizenship rights to people affected by ruling 168/13 and addressing other administrative procedures designed to deny citizenship and full social protection to vulnerable populations.
For decades, Haitian descendants have struggled to gain consistent access to citizenship rights in the Dominican Republic. In 2010, the Constitution was amended to refuse citizenship to children born to "transient" parents. This has for the most part applied to families who live and work in the sugar cane industry despite the fact that they may have lived in the Dominican Republic for decades. Most recently on September 23, 2013, the Constitutional Court authorized the Dominican government to review birth records back to 1929 of children born to "transient" parents, effectively stripping over 240,000 people of secure citizenship through ruling 168/13. The U.N. Refugee Agency expressed concern, stating that, "Should this process indeed be carried out without the necessary safeguards, three generations of Dominicans of Haitian descent could become stateless."
World Vision has worked in the Dominican Republic since 1989, serving the most marginalized communities and vulnerable children and youth, many of whom are Dominican citizens of Haitian descent. Many of the children and youth we serve are negatively impacted by the ruling; they have effectively been made stateless, violating a key international human right and making them undocumented immigrants in the country of their birth. World Vision has learned from experience that without citizenship rights, children are more vulnerable to exploitation and abuse, such as trafficking and child labor. Children, youth and their parents will be denied key social protection services and likely suffer psychological trauma. At a practical level, children, youth, and their parents will find it more difficult if not impossible to obtain birth certificates, study, and access medical care, work in the formal sector, and access their pensions.
It is for these reasons that World Vision denounces ruling 168/13 and the discriminatory actions which have accompanied it designed to take away citizenship rights. As Stefan Pleisnitzer, Regional Leader of World Vision in Latin America and the Caribbean, recently declared,"We are especially concerned about the negative consequences the ruling is already having on children and youth, a population which should be protected and cared for by the State and its Institutions; neighbors, families, and churches; and by the international community should other safeguards fail. We have a moral obligation to encourage the government of the Dominican Republic to search for solutions that strengthen children's rights, allowing them to reach their full protection."
World Vision recognizes the sovereignty of the Dominican Republic to establish its own laws and policies on migration, but we respectively call upon its leaders to restore full citizenship rights to people affected by ruling 168/13 and address other administrative procedures which in practice deny citizenship rights and full social protection to vulnerable populations. We would remind the country's leaders of the words our Lord taught us, "You shall neither mistreat a stranger nor oppress him, for you were strangers in the land of Egypt." Exodus 22:21.