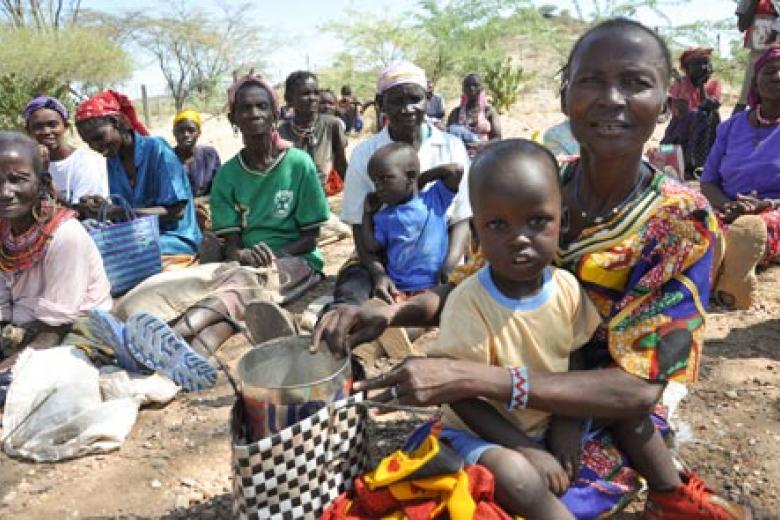 Horn of Africa Food Crisis One Year On
Wednesday, October 31, 2012
World Vision continues to respond to the hunger crisis in the Horn of Africa, which at its height had millions facing the threat of starvation or acute malnutrition. 
The region endured one of the worst food security crises of the 21st century as a result of prolonged drought, food price hikes and a vicious armed conflict in Somalia. Famine was declared in two regions of southern Somalia -- southern Bakool and Lower Shabelle.
But thousands of people are thought to have died there before that UN declaration in July 2011. By September, over 13 million people across Ethiopia, Somalia and Kenya were in need of humanitarian assistance. 
In July 2011, World Vision determined a large-scale emergency response was needed and the organisation swung into global fundraising and alert mode, using all means, including the media to warn of the impending disaster if more was not done. 
Since then, the organisation has assisted more than 2 million people with life saving and early recovery interventions in Kenya, Ethiopia, Somalia and Tanzania. In addition to responding in already established operational areas, World Vision is also responding in many new areas that were hard hit by the drought as well as in the refugee camps of Dollo Ado in Ethiopia and Dadaab in Kenya. We have provided water and sanitation, emergency food, shelter, livelihoods and agriculture assistance, nutrition and health programming and done much to promote the protection of children. 
Many areas are still hard hit by inadequate rains, so World Vision's emergency activities continue to meet the needs of children and their families in the worst affected areas. In programme areas that are on their way to recovery, World Vision is helping villages recover and become more resilient so they can better face down future droughts. Organisations, including World Vision, governments and other agencies are working together under the banner "Secure the Future" to define the best ways to help communities become more resilient to droughts. 
The climate in the region is changing. Surveys of local communities show the Horn is experiencing an increase in the frequency of droughts. In Kenya, drought-related shocks used to occur every ten years. Now it is every two to five years. The Borena communities in Ethiopia report that whereas droughts were previously recorded every 6-8 years, they now occur every 1-2 years. Meteorological data shows temperatures have increased while rainfall trends are less clear. 
The global response to the crisis in the Horn of Africa was immense. According to UN OCHA, humanitarian agencies asked for US $2.5 billion to address the crisis. So far US $1.22 billion has been funded.