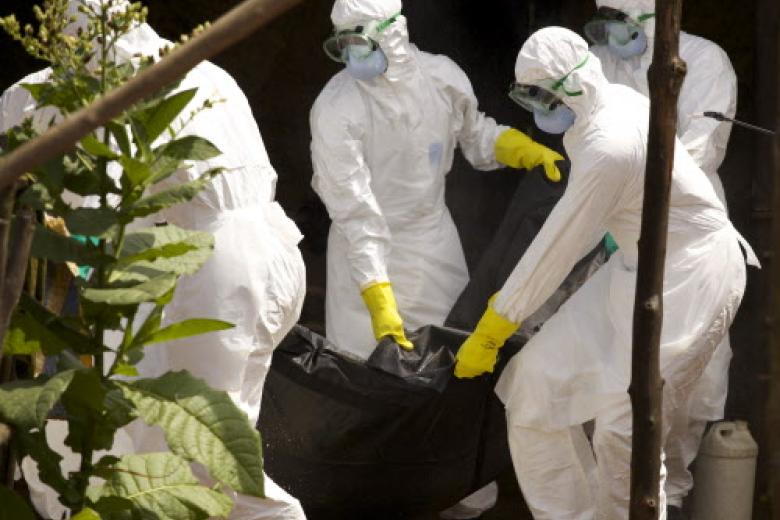 Witnessing an Ebola funeral
Thursday, November 27, 2014
It was mid-afternoon when our World Vision team arrived in the outskirts of Moyamba, a town in southern Sierra Leone. We were guided to a small house, surrounded by at least 100 people. A woman named Betty had lived in this house. Here, she had shared food, love and laughter with her two sons and extensive network of family members. And here, Betty had suffered and died after contracting Ebola.
I was here to document the correct steps in a safe and dignified burial, to share with other communities. 
World Vision workers had come to carry Betty's body to its final resting place. I had come to photograph all the correct steps, so as to help educate other communities on ways to safely handle the bodies of those who died from the disease, and provide a dignified burial.
James, Betty's teenage son, stared at me, teary-eyed but with a hypnotic intensity. I couldn't tell what he thought of my presence here, at his mother's funeral. In a culture where physical contact is paramount, I couldn't even touch James' arm to show him that I cared. And despite my good intentions, I could see that the heavy camera I carried was threatening.
Feeling like an intruder at such a painful time was almost more than I could bear. I joined the burial team as they began doing their work. I know them and they know me, and I needed the distance away from the stares and quiet hostility of the family. I filmed the team's precise preparation for burial, including the disinfection of the body and everything it had touched. I admire the team's commitment to doing such a dangerous but absolutely necessary job. But while the act of filming removed my feeling of inadequacy, I continued to avoid looking at the grieving people standing nearby.
Listen as Bruno Col talks about safe and dignified burials here.
From a distance, I watched one of the workers spraying chlorine throughout the main room of Betty's house. The too-familiar stench and acidity of the disinfectant is everywhere these days. As I watched, I realized that even such extreme, careful measures would mean little or nothing for Betty's family. The fear of Ebola is so great that no one will ever inhabit the house again.
I continued to photograph as the brief memorial ceremony took place … click, click, click. A local pastor, who had arrived with the team, began praying for Betty. As the family joined in, the silence broke as tears began to flow from many of those present, including me. The Lord's Prayer has never been more intense and more meaningful than at this particular instant.
Betty's son and her sister console each other on their loss. Photo by Jonathan Bundu
Through my viewfinder, my vision was limited to the sorrow and the pain of the family members. Then suddenly, I heard something. Betty's youngest sister screamed and ran towards the body, calling out "Sister, my sister!" over and over again. Her face a mask of unbearable grief, she fell to the ground, clawing at the soil.
My own tears flowed freely now. In a courageous act of compassion, an older woman came forward and held the sister as she grieved. At a time when all physical contact is discouraged, she gently helped lead Betty's sister away from the body. Her cries continued "Sister, my sister!" for what seemed like an eternity.
The burial workers slowly carried the body to a pick-up truck, which transported it to a nearby burial ground. Betty was laid to rest among the others from the local community who had died from Ebola. She received the prayers and the dignity she deserved. It is all we can offer to the dead. In the meantime, we'll continue our efforts, along with governments and countless other agencies, to help those still living in the shadow of Ebola.
You can help support the work World Vision is doing by clicking here.