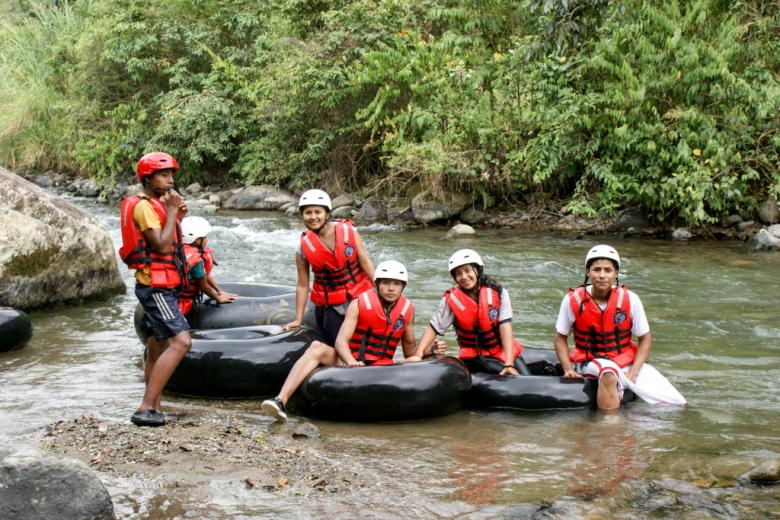 Extreme Entrepreneurship
Sunday, January 13, 2013
Young entrepreneurs from Guacha community in the Carchi province are transforming the ways of generating income. While their parents work on agriculture, this group of 22 youths decided to form a tourism club and offer extreme sport experiences.

In the highlands of Ecuador surrounded by green forests, rivers and waterfalls, youths promote tourism since 2009 through canoeing and tubing activities as part of an enterprise initiative of the World Vision´s ADP Cuenca del Río Mira.
An extreme project for youths
The project aims to promote tourism and environmental care in the area of Carchi where agricultural products are common. Participants were initially trained on values, leadership and economic development. "At first we used to make handicrafts for sale, until we had the enterprise training and decided to focus on this project," recalls 15-year-old Katerine.
With an initial investment of US$10,000 youths bought equipment such as life jackets, helmets, ropes and harnesses; they were trained as well on canoeing and tubing safety techniques. The group decided to call their business "The Border Club" and now, they are also offering guidance services to tourists.
"The ecology club allows us to be in contact with the environment and take care of it," adds 17-years-old William. 
Steps to sustainable tourism
Although The Border Club does not have a fixed income yet, youths earn from US$70 to US$80 per day during holidays which is invested in their studies and in a waste recycling project that benefits families of this area. 
"These projects help the community [and] all who live here," says Mayra, 14. "We have the opportunity to have fun with friends, play sports and not spend time doing nothing," she adds.
18-year-old Jefferson ends "World Vision has been very supportive, we now seek [to make] sustainable tourism."
The second phase of this initiative includes trainings on adventure tourism, extreme sports and environmental education in coordination with experts and local tourism organizations.